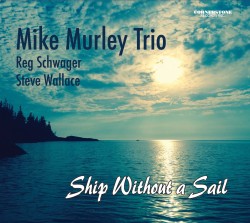 Ship Without a Sail
Mike Murley Trio
Cornerstone Records CRST CD145 (cornerstonerecordsinc.com)
Among tenor saxophonist Mike Murley's group configurations, the trio has a special status, a vehicle for consummately lyrical jazz with chamber music dynamics. Launched in 1998, the group included bassist Steve Wallace and guitarist Ed Bickert until his retirement in 2001. The guitar chair has since been filled by Reg Schwager, who invariably sounds like the only other person for the job. Resembling the instrumentation of the original Jimmy Giuffre 3, it's a demanding format that requires everyone to do more than they usually might – from piano-like comping to counter melody – while appearing to do less.
The repertoire tends toward seldom-heard jazz and show tunes with a certain harmonic subtlety. Murley's timbral shifts are a highlight, as he modulates his sound from piece to piece, even bringing different tones to adjacent ballads. Don Sebesky's You Can't Go Home Again has something of the airiness of Stan Getz but brought closer to earth, while there's a slightly harder, metallic edge to Kenny Wheeler's Ever After, a sound just as beautiful, but different.
Though it's the ballads and their stronger melodies that stand out, like the gorgeous samba Folhas Secas, the group is just as happy at up-tempos, the instrumentation lending a special lightness and clarity to Charlie Parker's Dexterity and Murley's own Know One, the latter highlighting the way Schwager and Wallace interact creatively, exchanging lead and accompanying roles with aplomb. John Lewis' Two Degrees East, Three Degrees West points to the group's cool jazz roots and provides an outlet for everyone's blues impulses.