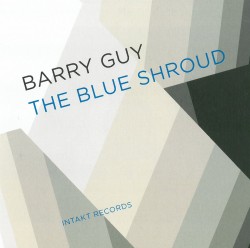 The Blue Shroud
Barry Guy
Intakt Records CD 266 (intaktrec.ch)
British bassist and composer Barry Guy has enjoyed an unusual career, as a member of original instrument baroque ensembles, as a force in European free improvisation and as a leader of large ensembles (like the London Jazz Composers Orchestra) exploring multiple compositional methodologies. His 71-minute Blue Shroud is an extraordinary work that integrates all of those practices.
It's inspired by Picasso's Guernica, the title commemorating the moment in 2003 when a reproduction was covered up at New York's U.N. building as Colin Powell argued for the invasion of Iraq. A work of furies and lamentations, The Blue Shroud stretches from tumultuous collective improvisations to moments of melodic grace and reflection, some coming from Guy's own pen, others from J.S. Bach and H.I.F. Biber's Mystery Sonatas. To execute the work, Guy has drawn on the breadth of his musical associations to create a 14-member group that includes violinist and Bach/Biber specialist Maya Homburger; distinguished free improvisers like pianist Agustí Fernández and the percussionists Lucas Niggli and Ramón López; and others fully at home in both worlds, like Michel Godard on tuba and serpent and Michael Niesemann on wailing alto saxophone and baroque oboe.
The work includes songs on texts by Irish poet Kerry Hardie that delineate the figures in Guernica and a polyglot declaration of the Iraq invocation, all performed by Savina Yannatou, whose expressive and musical voice brings a sharp focus to the work. At one point she and the accompanying instruments become bird song; an orchestral passage juxtaposes manic conducted improvisation with sudden interruptions of silence, invoking the soundscapes of war and concomitant death. Guy repeatedly combines different techniques to maximize the impact of this singular work, as alive to the possibility of beauty as it is to terror, somehow making it all cohere.
The Blue Shroud hammers out its own terrain, one that transcends its parts and deserves to be heard widely.