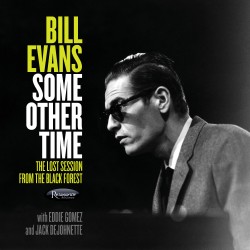 Some Other Time: The Lost Session from the Black Forest
Bill Evans
Resonance HCD-2019 (resonancerecords.org)
For six months in 1968, Bill Evans led one of the great versions of his trio, with bassist Eddie Gomez and drummer Jack DeJohnette, a group previously heard only in a single concert recording from the Montreux Jazz Festival. However, they did a studio session for the German MPS label, a session of trio, piano-bass duets and solo piano pieces for which contracts were never signed and which was never released until the appearance of this two-CD set.
In company with the singularly gifted bassist Scott LaFaro, Evans had redefined the jazz piano trio by 1960, treating it as a highly interactive unit in which the bass regularly functioned as melodic counterpart as well as rhythmic and harmonic foundation. By 1968 Gomez was two years into his 11-year tenure with the trio, probably the most adroit and inventive bassist to play with Evans following LaFaro's death in 1961. The presence of DeJohnette added another level of rhythmic definition to the group, feeding Evans' increasing interest in detailed, shifting accents in his improvisations.
The material consists of standards, superior show tunes (Leonard Bernstein's Some Other Time stands out) and a couple of Evans originals, typically filled with subtle harmonic recastings that create complex moods, much of it enlivened here by DeJohnette's light, sparkling balance of cymbal and snare. Among numerous highlights, the trio shines on performances of Evans' own Very Early and a brilliant version of My Funny Valentine.