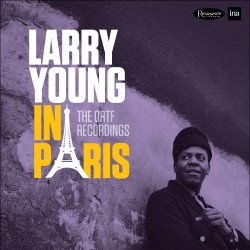 In Paris – The ORTF Recordings
Larry Young
Resonance HCD-2022 (resonancerecords.org)
Larry Young emerged in the mid-60s, taking the Hammond B-3 organ in a fresh direction, shifting it away from its soul jazz roots toward the modal jazz of John Coltrane and exploring the instrument's subtler timbres for atmospheric effects. By the end of that revolutionary decade, he would be playing with Miles Davis and Jimi Hendrix, but in 1964 and '65, he was working in Paris as a sideman in expatriate American saxophonist Nathan Davis' quartet, along with drummer Billy Brooks and trumpeter Woody Shaw, who would turn 20 in the midst of these recordings.
This two-CD set consists of recently discovered recordings from French radio archives that include the quartet, an expanded version called the Jazz aux Champs Elysées All-Stars, and organ and piano trios led by Young. Virtually unknown at home, these musicians roar with surging invention in the post-bop style then in flower. Anthemic pieces such as Young's Talkin' About J.C., Shaw's Zoltan (beginning with a quotation from Kodály's Háry János Suite) and Wayne Shorter's Black Nile give rise to hard-driving, extended modal explorations. Davis will fasten on a phrase, repeating it with increasing focus to generate tremendous tension. Shaw, the last to emerge in a cohort of brilliant young trumpeters, was already demonstrating the fluid creativity that would distinguish him. Young is almost a band in himself, creating bass lines and surging rhythms, constantly feeding new material to the horns until he breaks free in his solos.
The booklet that accompanies the CDs has extensive background on the mid-60s Paris milieu, along with interviews with Young's collaborators and followers, including John McLaughlin and John Medeski.