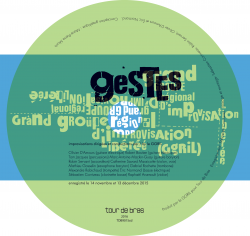 Gestes
GGRIL
Tour de Bras TDB CD 90015
(tourdebras.com)
GGRIL is an acronym for the Grand Groupe Régional d'Improvisation Libérée, a 12-member ensemble led by bassist Eric Normand that's devoted to collective improvisation and conduction, or conducted improvisation. Based in the unlikely hamlet of Rimouski, Quebec, the group has nonetheless managed to collaborate with international soloists and recently completed a European tour. Gestes marks their continuing development, a program of five improvisations and a piece by percussionist Danielle P. Roger.
Perhaps it's the relative isolation from musicians of similarly radical orientation, but GGRIL has developed a very high level of sustained interaction, evident here in continuously controlled work in which both individual and group invention are in sharp focus. The group's odd mix of instruments – brass, reeds, accordion and a collection of guitars, strings and percussion – creates striking contrasts, while the musicians' heterodox backgrounds have them drawing simultaneously on elements of classical, jazz, folk, and industrial music. Les gestes permettent… moves through distinct texture and moods, first featuring the warmly plaintive trombone of Gabriel Rochette, then shifting to a passage of Webern-esque spikiness from violinist Raphaël Arsenault that's set against the sustained tones of low-pitched reeds. That passing invocation of high modernism gives way to random snare rattles and feedback guitars.
Other dimensions of the group's resources are evident in the verbi-vocal explosions of De nombreux humain…, the dissonant brass blasts of Les signes… and the sustained machine rhythms of Mais au delà de montrer… as GGRIL continues to find ways to challenge themselves and audiences alike to take that next step.