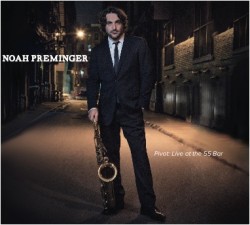 Dark Was the Night, Cold Was the Ground
Noah Preminger
Independent (noahpreminger.com)
Last year New York tenor saxophonist Noah Preminger released Pivot: Live at the 55 Bar, leading his quartet in two half-hour improvisations based on themes from the 1930s blues master Booker "Bukka" White. Now there's a studio follow-up deep in the same vein, with concentrated instrumental treatments of nine songs by White, Blind Willie Johnson, Charley Patton, Blind Lemon Jefferson and other country blues and gospel singers who recorded in the late 20s and early 30s. Preminger's group conception is rooted in the early 60s work of Ornette Coleman and Sonny Rollins (particularly their bands with Don Cherry), employing that highly conversational, free jazz style and its raw, vocalic emphasis as a conduit to the emotional wellsprings of early blues.
White's I Am the Heavenly Way has the band in celebratory flight, from the bouncing theme statement and sprung rhythms generated by bassist Kim Cass and expatriate Vancouver drummer Ian Froman to Preminger's charging solo and trumpeter Jason Palmer's rapid-fire, splintering lines. Jefferson's Black Snake Moan has elements of a New Orleans parade band, while Robert Johnson's mournful Love in Vain is reduced to an ever-resolving melodic fragment, at once litany and cry.
It's music filled with a subtle light as Preminger and company seek the emotional and spiritual heart of jazz through the grain of its primal melodic figures, journeying into the past to achieve a rare presence.