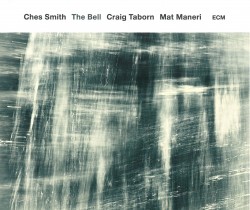 The Bell
Ches Smith; Craig Taborn; Mat Maneri
ECM 2474
Review
Ches Smith is a young American percussionist/composer whose CV criss-crosses a musical landscape in which jazz, rock and experimentation have tumbled into one another, working with musicians like John Zorn, Tim Berne, Mark Ribot and Mr. Bungle. For his ECM debut, his musical language is shaped by impulses from post-serial classical music to free improvisation. He's joined here in his longstanding trio by pianist Craig Taborn and violist Mat Maneri to play a series of pieces that consistently blur the lines between the composed and the improvised.
From the opening clang of a bell on the title track, there's an air of high drama and mystery emerging from the muffled undercurrent of the piano and Maneri's vibrant sustained tones. Repeating motifs may temporarily stabilize the pieces, but it's an illusion, as patterns either disappear or build to menacing intensity amidst a maelstrom of sound. The furies loosed on I'll See You on the Dark Side of the Earth give way to the subtle, almost random prettiness of the vibraphone and piano beginnings of I Think. Moods turn subtly from joyous to pensive in a piece like It's Always Winter (Somewhere).
Smith's music succeeds on its mix of unlikely elements and its own internal tension patterns, its successively reimagined drives to order and freedom, but it could only arise from the trio's instrumental brilliance. Smith can wittily deploy assorted rock and jazz beats, as well as reveal the beauty of a bowed vibraphone; Taborn can bring a precise and distinguishing touch to individual notes in the most complex flurry; while Maneri practises an exemplary combination of passion and control.