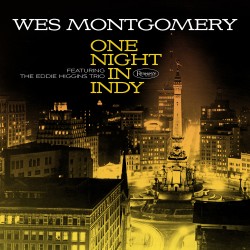 One Night in Indy
Wes Montgomery
Resonance HCD-2018 (resonancerecords.org)
In October 1959, Wes Montgomery recorded his debut LP, The Wes Montgomery Trio, for Riverside Records. It would rapidly make him the most eminent guitarist in jazz, famed for his sheer invention and drive as well as his unorthodox thumb-picking and improvised lines in unison octaves. The previous January, when this was recorded, Montgomery was a 35-year-old Indianapolis factory worker who regularly played in local bars and astonished visiting stars. Documenting a performance in an unnamed venue put on by the Indianapolis Jazz Club, a loose association of fans, One Night in Indy presents the Chicago-based trio of pianist Eddie Higgins with Montgomery as a special local guest.
Passed down by members of the club until it reached Resonance Records (even the name of the bass player is unknown), the tape documents a great set of club jazz from a year when the modern mainstream was in full flower. It's a joyous meeting of musicians who speak the same idiom with fluency and imagination, no doubt with spirits raised by the sheer surprise of Montgomery's creative energy and distinctive approach, complete with runs executed in chords. The program begins and ends with standards – Give Me the Simple Life, You'd Be So Nice to Come Home To – and relies on classic jazz anthems in between, delivering liquid beauty to Ellington's Prelude to a Kiss and plenty of momentum to Stompin' at the Savoy and the Basie hit Li'l Darlin'.
It's all carried forward by the masterful drumming of Walter Perkins and that solid, anonymous bassist, with Higgins and Montgomery matching one another in swing, invention and sheer elan. One of the most special moments comes on Thelonious Monk's subtly dissonant ballad Ruby, My Dear, with Higgins supplying an abstract, bell-like introduction.