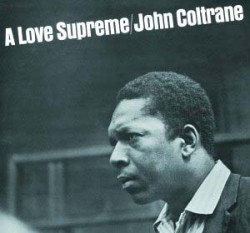 A Love Supreme
John Coltrane
Impulse/Verve 80023727-02
Review
Few jazz recordings have the significance of
A Love Supreme
, the four-part suite that Coltrane recorded on December 9, 1964, with his classic quartet of pianist McCoy Tyner, bassist Jimmy Garrison and drummer Elvin Jones. With Miles Davis' 1959
Kind of Blue
, it virtually defines the concept LP in jazz. Inspired by a transformative experience that freed Coltrane of his addictions and turned his music into a spiritual mission,
A Love Supreme
is his most structured work, describing the progress through
Acknowledgement
,
Resolution
, and
Pursuance
to an ultimate
Psalm
. A definitive statement of the quartet, it was also a watershed between some of Coltrane's most orderly work and the tumultuous free jazz that marked his last years.
For the 50th anniversary of its release, Verve has expanded on the previous deluxe edition of 2002 with two- and three-CD versions. For serious Coltrane listeners, the three-CD set, with extensive commentary and more new material, is the one to get. Some material seems superfluous, the mono dubs to which Coltrane listened adding nothing new, but the alternate takes and other versions (virtually the complete recordings) demonstrate the extent to which the released version is an image of order amidst rough seas. The day after the quartet recording, Coltrane set about recording the suite with a sextet that added tenor saxophonist Archie Shepp and bassist Art Davis. The set adds two sextet versions of Acknowledgement to those previously released. The music initially seems less successful, with Shepp adding a raucous, almost R & B flavour, but as one listens to the four takes, one appreciates the spirit of collective improvisation that Coltrane was exploring, with each version radically different than the one before, each growing in freedom and intensity.
Also included is Coltrane's sole live performance of the work, recorded six months later at the Antibes jazz festival. This, too, is raw, more exploratory work, with the up-tempo Pursuance stretched from ten to 21 minutes in length. Listening to Coltrane's further elaborations on A Love Supreme, reinforces the idea that the quartet studio recording captured a uniquely reflective (and structuralist) moment in Coltrane's art, a gathering of one's secure knowledge before launching again into the unknown.