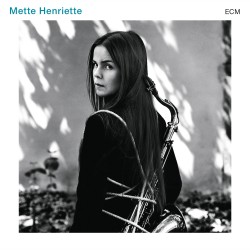 Mette Henriette
Mette Henriette
ECM 2460/2461 (ecmrecords.com)
Review
Mette Henriette is a young Norwegian saxophonist and composer and this eponymous two-CD debut is a remarkable statement, whether considered for its skill, beauty or sheer reach. Recorded during 2013 and 2014, the music possesses sufficient breadth to escape any immediate classification, with materials and textures drawn from contemporary composed music, jazz and free improvisation. The two CDs are distinguished by their resources: the first features a trio with pianist Johan Lindvall and cellist Katrine Schiøtt; the second adds 11 musicians including a jazz rhythm section and five more strings.
Henriette does not immediately reveal herself on the first CD as Lindvall and Schiiøtt develop elongated textures that are at once rich and spare, aloof and full of suggestion. There's a profound state of attentiveness in this music: neither specifically contemplative nor serene, it seems poised to accept revelation. The opening track, So, may suggest something of Arvo Pärt, while later episodes are at times more evanescent still, touching on the whispers and transparency of George Crumb's Night Music. Henriette's tenor saxophone is often limited here to long tones and brief phrases, her interest focused on sonority, overtones and the literal sound of air and moisture in the horn.
That role expands, along with the range of compositions, on the second CD, with Henriette's wellspring of lyricism coming immediately to the fore on the beautiful passé, before the music moves on to darker realms, including the foreboding circus of late à la carte. As a saxophonist, she has a tremendous expressive range. Her timbral focus can suggest tenor sounds as distinct as Stan Getz, Jan Garbarek and Gato Barbieri (the latter in wildheart, a brooding noisefest that invokes the early Jazz Composers Orchestra), while a willingness to explore multiphonics and sheer air suggests affinities with free improvisers. Mette Henriette's reach is impressive, her grasp even more so.