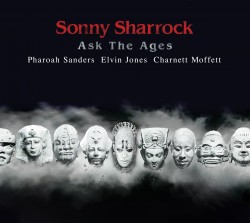 Ask The Ages
Sonny Sharrock
M.O.D. Technologies MOD0016 (mod-technologies.com)
Many creative musicians have struggled to find a supportive audience, and that was certainly the case with guitarist Sonny Sharrock. He emerged in the late 1960s as a school of one, playing free jazz with the raw power of electric blues and the sonic edge of rock guitar, bringing a signal force to recordings like Pharoah Sanders' Tauhid and Miles Davis' Jack Johnson. Over the following years Sharrock was in and out of music, until forming an association with bassist/producer Bill Laswell. The fruits of that association included the explosive band Last Exit and this CD from 1991, Sharrock's last recording as a leader before his death in 1994.
Sharrock has ideal partners here, including saxophonist Sanders, drummer Elvin Jones and the younger bassist Charnett Moffett, all of them sharing a vision of music possessing palpable spiritual power. The music is often anthemic with a sonic density rare in jazz (thanks to Laswell's production) and an emotional power seldom approached in jazz fusion. There's a perfect balance between Sanders' apocalyptic rant and Sharrock's own wild inventiveness, from the skittering electric chatter of Promises Kept to the illuminated eloquence of Who Does She Hope to Be?, his ringing, sustained sound the closest a guitarist will likely ever get to the spirit of John Coltrane.
The match of the four musicians on each of Sharrock's six compositions is uncanny, achieving its greatest power on Many Mansions, Sanders wailing above Jones' thunderous drumming while Sharrock and Moffett generate a pulsing wall of sound.