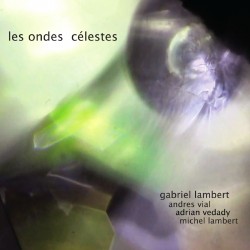 Les Ondes Célestes
Gabriel Lambert
Jazz from Rant 1549 (nette.ca/jazzfromrant)
The label Jazz from Rant is very much a family affair, projects by composer/drummer Michel Lambert, his partner Jeannette Lambert and her brother Reg Schwager. With this CD, guitarist Gabriel Lambert, Michel's nephew, joins what may be the first family of Canadian jazz.
Lambert is a fleet-fingered guitarist, and his thoughtful improvisations are clearly articulated with a bright, glassy sound. What makes the CD remarkable, however, is that it hardly sounds like a debut at all. His compositions mingle influences from both classical and jazz sources – serialism, modes and free improvisation – but the music always feels organized, testament to both the coherence of his vision and the developed empathy of the band.
The first half of the CD consists of four individual pieces. Le mystérieux ordre des choses has bassist Adrian Vedady and drummer Michel Lambert developing a drone before Gabriel Lambert enters playing a serial melody, creating the kind of tonal tension that sustains much of the work here. Approximation #2 demonstrates Gabriel Lambert and pianist Andres Vial's gift for developed scalar improvisation in a Coltrane vein, while Approximation #3 employs a Messiaen mode to develop a heightened calm.
The second half is devoted to the four-part suite, Les Ondes Célestes, in which the influences of Schoenberg and Messiaen are further integrated, until the work concludes with Les ondes, the conventional instruments of a jazz quartet creating a dreamlike state of bowed strings and shimmering cymbals and piano. It's a fitting transformation to conclude an imaginative recording.