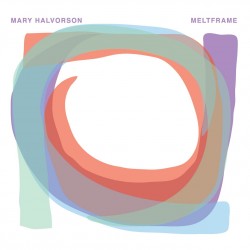 Meltframe
Mary Halvorson
Firehouse 12 FH12-04-01-021 (firehouse12.com)
In her mid-30s, Mary Halvorson has distinguished herself as the most original jazz guitarist of her generation. A veteran of numerous ensembles led by Anthony Braxton and a regular musical partner of Marc Ribot, Halvorson has touched on the radical fringes of folk and rock as well as jazz and has created a remarkable series of CDs leading a trio and quintet. Meltframe is her first solo CD, and it goes very close to the heart of what makes her such a compelling musician, her rare ability both to reach back to jazz traditions and forward to the possibilities while setting everything in an insistent present.
Whether it's her embrace of Duke Ellington and an absurdly full-size hollowbody archtop guitar, or Ornette Coleman and an effects pedal that carries pitch bending to the stratosphere, Halvorson is at ease with fundamentals, corollaries and contradictions. They're all here, from the dense electric roar with which she approaches Oliver Nelson's Cascades to the (lightly amplified) flamenco touch she employs on Annette Peacock's Blood. McCoy Tyner's delicate Aisha occasionally surrenders to grunge rock. It's more for those who like to be surprised than those who hate to be disturbed.
Coleman's Sadness arrives amongst wildly bending arpeggios, while Ellington's Solitude is a reverie in artificial reverb that moves at a glacial pace toward microtonal dissolution. Halvorson can create great drama with minimal means, evidenced in her treatment of Carla Bley's Ida Lupino, which develops a kind of intense inevitability through deceptively simple strumming. Works by Peacock and Carla Bley may suggest their first advocate, pianist Paul Bley, whose stark keyboard lines and manipulations of timbre are paralleled here.