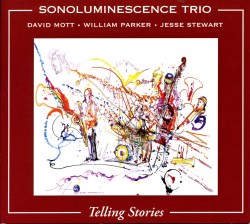 Telling Stories
Sonoluminescence Trio
Art Stew Records ASR 003 2015
A band whose improvising is as enlightening as its name, which refers to light produced as sound waves pass through liquid, this trio combination confirms that fluid musicianship can easily overcome geography and separation. A tale of three cities – baritone saxophonist David Mott lives in Toronto, percussionist Jesse Stewart in Ottawa and bassist William Parker in New York – the Sonoluminescence three don't play together very often. But when they do, intercommunication is paramount, because exposing unique sonic patterns is more important to all than sporting showy techniques.
Mott and Stewart are particularly cognizant of this. One feels the drummer would sooner lock himself in an airless crypt than shatter this partnership with blasting beats. As opposed to other baritone players who plunder its lower depths like deep-sea divers in the ocean, Mott emphasizes his horn's moderato facility. He could be playing a tenor, save for some infrequent rhino-like snorts. As for Parker, he's cognizant that the double bass can be treated as many instruments simultaneously.
This is expressed as early as Echoes of Africa, the CD's first track, where the patterning from Parker's strings could come from a berimbau or an ngoni and Stewart's rhythms from a combination of a wood drum and a conga. Mott's response isn't further exoticism however, but comprehensive tongue flutters and expressive peeps. A comparable transformation appears on There's the Rub, where the sum total of thickened bass string strums, timed percussion clatters and selective reed breaths add up to a New Music-like interlude, with the trio's storytelling facilities intact. The three are also capable of outputting non-stereotypical rhythmic activity as on the slyly named Rumble for Jackie Chan. But the resulting hard-hitting beat is strained through sardonic 21st-century sensibilities, so that the metrical syncopation is brainy rather than merely brawny.
Mixing speedy rhythms, standard tune references and technical extensions when needed for additional colour and emphasis, the Sonoluminescence Trio does just what is promised in the title. It tells unusual stories energetically, with subtlety, but without artifice or showboating.