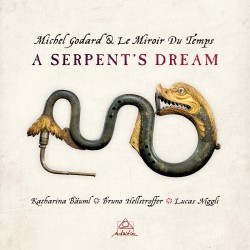 A Serpent's Dream
Michel Godard & Le Miroir du temps
Intuition INT 3440 2 (intuition-music.com)
Michel Godard may be the rarest and best kind of musician, filled with curiosity and energy and without prejudice. A master tuba player and member of the French National Orchestra since 1988, he's even more distinguished as an explorer. Taking up the tuba's ancestor, the serpent, he plays jazz on it as well as ancient music. His most distinctive work may be in the unusual hybrids he constructs between jazz and renaissance music, like A Serpent's Dream with his quartet Le Miroir du Temps.
The band's sounds are distinctly beautiful, blessed by a dry and ancient clarity in the case of Godard's serpent and Katharina Bäuml's shawm, though Bruno Hestroffer's theorbo (a long-necked lute) sounds lightly amplified (at least with a microphone close to the steel strings) and Godard's occasional electric bass is by definition. Percussionist Lucas Niggli employs a host of instruments to add colour, but it's his hand drumming that comes to the fore. There's nothing of the purist in Godard's approach: most of the works heard here are his own compositions, and he's just as happy setting them beside the ancient and anonymous In Splendoribus as Charlie Haden's Our Spanish Love Song, with its distinctively contemporary – or at least romantic – harmonies.
Godard's ensemble manages to reveal a subtle sense of order, some of it gleaned from archives and some just coming into being. Presented with the opportunity to play a serpent made in 1830 that is decorated with an ornate, gilded sea monster with scales and tail, Godard elects to play the blues, the traditional, specific and appropriate Old Black Snake Blues. It's impossible not to be charmed.