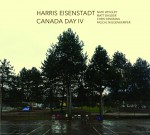 Drummer/composer Harris Eisenstadt is currently based in New York, but he commemorates his roots in the band that recently released Canada Day IV (Songlines SGL 1614-2, songlines.com). The group style has its roots in the Blue Note avant-garde of the mid 60s: it's a quintet of trumpet and reeds, vibraphone, bass and drums, but the style is stretched at every point into a dramatic contemporary idiom, from the eerie sound of Chris Dingman bowing his vibraphone to Nate Wooley's radical reconstruction of trumpet sound, sometimes departing from his crisply incisive lines to couple multiphonics with circular breathing. Eisenstadt's compositions keep inviting the band members to further invention while anchoring them in often complex designs that reference his interests in African and Cuban rhythmic patterns. An emphasis on sub-groupings brings each individual to the fore, including tenor saxophonist Matt Bauder and the group's newly arrived French-German bassist Pascal Niggenkemper, while Eisenstadt leads from his drum kit, exploring fresh forms of momentum.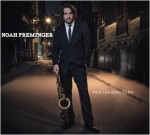 Known for his long tenure in Metalwood, the remarkably successful trans-Canada fusion band, Ottawa-born Ian Froman is another Canadian drummer who works primarily in the New York area. He plays a key role on Noah Preminger's Pivot: Live at the 55 Bar (noahpreminger.com). Preminger is an adventurous saxophonist whose influences range from the laconic abstraction of Warne Marsh to the wail of Ornette Coleman, but he's chosen to root his music here as deeply as possible. The CD consists of two songs by Mississippi Delta blues singer Bukka White: Parchman Farm Blues and Fixin' to Die Blues. Each primordial blues provides a launching pad for a 32-minute exploration that will recall both the Coleman quartet and the titanic work of John Coltrane and his drummer Elvin Jones as Froman (a student of Jones) keeps the music moving with continuous polyrhythms and shifting accents, whether pressing Preminger and trumpeter Jason Palmer ahead or providing detailed commentary on their phrasing. Like its sources in the blues, this music has the feel of living tissue.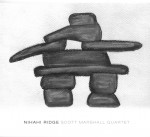 Another fine Ottawa-born drummer, Nick Fraser provides solid support to saxophonist Scott Marshall on Nihahi Ridge (SMT004, scottdouglasmarshall.com), Marshall's fourth CD as a leader and the third by his Toronto quartet with pianist Marcel Aucoin and bassist Wes Neal. Marshall is a lyrical player using his tenor to create warmly reflective music even when the rhythms are forceful. The group's sense of dialogue emerges on After all this Time as the quartet smoothly negotiates shifts in mood. Aucoin's luminous solo is a highlight. Marshall's tone is just as nuanced when he switches to alto, from the keening wail of Groovy Eliot to the light, airy sound he achieves on I Wish You Peace. Marshall's preference for ballad tempos and strongly asserted melodies can dominate here, but the off-kilter How Very Kerouac provides a change of pace along the way.
Review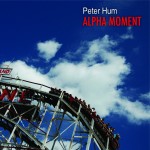 Pianist/composer Peter Hum may be better known as a jazz and food critic for the Ottawa Citizen, but there's nothing to suggest anything but full commitment to his art on Alpha Moment (peterhum.com). Hum leads a sextet here, and his group concept is almost orchestral. His compositions are well formed and subtly voiced, with solos arrayed against his own lush chords, Alec Walkington's resonant bass and drummer Ted Warren's constant sonic shadings. While the band's members are currently spread out geographically, the group clearly came together at a special moment for the Ottawa jazz scene, much of the excitement coming from two Ottawa-raised saxophonists who have since moved on: Kenji Omae, now resident in Seoul, may be the most exciting tenor saxophonist to emerge in Canada in recent years, a powerful, impulsive player who's also capable of lustrous ballad playing; Nathan Cepelinski, now a New Yorker, plays alto and soprano with quicksilver thought and phrasing. Along with glassy-toned Montreal guitarist Mike Rud, the six make up a terrific band, something that's apparent everywhere here, but most pointedly on the aptly named title tune.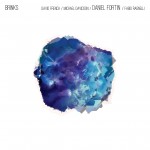 Bassist Daniel Fortin makes his debut as a bandleader on Brinks (Fresh Sound New Talent FSNT 473, freshsoundrecords.com). While his compositional skills have figured in releases by the band Myriad3, they play a more prominent role here, defining a strong, personal style. Fortin's pieces consist of just a few notes, a phrase or two to be recast, concentrated and contrasted. He creates edgy, tensile structures that have some of the character of Thelonious Monk's works without any particular resemblance. It's music that requires tremendous discipline on the part of the band to come up with sufficiently minimalist improvisatory approaches that are true to the spirit of the works, but that's just what tenor saxophonist David French, vibraphonist Michael Davidson and drummer Fabio Ragnelli have done. Operating within a set of timbres that might suggest comfortable ballads, the group turns out complex music filled with intriguing juxtapositions and fresh patterns. Fortin himself plays bass with a keen sense of structure and a special melodic focus.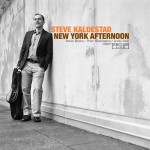 Tenor saxophonist Steve Kaldestad criss-crossed Canada and spent an eight-year sojourn in England before settling in Vancouver in 2008. Since then he has established himself there as a solid exponent of the mainstream modern. New York Afternoon (Cellar Live CL032014, cellarlive.com) presents him in performance with pianist Renee Rosnes (one of Vancouver's great contributions to New York jazz) and her regular rhythm section of bassist Peter Washington and drummer Lewis Nash. Kaldestad swings fluidly through a program that ranges through hard bop blues and swaying Brazilian melodies to the more exotic modal underpinnings of Joe Henderson's Punjab, with Rosnes' scintillating solo recalling her extensive work with the late saxophonist's band. Her own Icelight explores similar strata, while the ballad highlight comes on Kaldestad's soulful and silk-toned rendering of Beatriz.