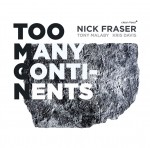 In his 20 years in Toronto, Nick Fraser has become first-choice drummer for numerous bandleaders ranging from the post-bop mainstream to free improvisation. He's done it with aggressive musicality and consistently inventive drumming, combining drive and subtlety. He has also recorded his compositions with his own quartet and the collective Drumheller. His latest CD will introduce his talents to a far wider audience: Too Many Continents (Clean Feed CF336, cleanfeed-records.com) appears on the most active free jazz label in the world and presents Fraser at the heart of a trio with expatriate Canadian pianist Kris Davis and saxophonist Tony Malaby, two key figures in current NYC jazz activity. The opening title track achieves near telepathic interaction, the group moving synchronously from delicate opening figures through a co-ordinated tumult of sound in which each throws more and more complex bits into the mix, eventually reversing the movement to ebb gradually to silence. Episodes of extended free improvisation are separated by Fraser's compositions, among which the moody, corrosive Also stands out.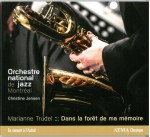 Canada rarely sees a jazz project as ambitious as Orchestre national de jazz de Montréal's presentation of pianist-composer Marianne Trudel's Dans la forêt de ma mémoire (ATMA Classique ACD2 2730, atmaclassique.com), a six-part suite for the 16-member orchestra recorded live with singer Anne Schaefer and trumpeter Ingrid Jansen as featured soloists with Christine Jensen conducting. Trudel might be new to writing extended works for a large ensemble, but there's nothing here to show it. The work has strong themes and rich harmonies presented with vibrant brass and reed textures that spring from the traditions of composer/orchestrators like Gil Evans and Maria Schneider. Vent Solaire, the second movement, has a magisterial quality, enhanced by a moment when Trudel's piano tremolos merge with the winds, while La vie commence ici has charging lines that demonstrate the precision of the all-star ensemble. Trudel and Ingrid Jensen provide plenty of individual highlights, but there are effective solo spots from trombonist Jean-Nicolas Trottier and bassist Rémi-Jean LeBlanc.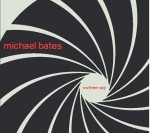 The cry, the shout, the laugh and the mutter of the blues have been part of jazz since its beginnings, not all jazz admittedly, but much of it and much of the best of it. Those tones are front and centre in Michael Bates' Northern Spy (Stereoscopic 266-1, outsidesources.org) on which the Vancouver-born, Brooklyn-based bassist leads a trio with saxophonist (and former Vancouverite) Michael Blake and drummer Jeremy "Bean" Clemons, the latter providing some rock-solid, minimalist backbeats. It's as visceral and soulful as one might expect of music inspired by Blind Willie Johnson, Otis Redding and John Coltrane. It also invokes saxophonist Julius Hemphill's edgy Hard Blues. As the trio's lead voice, Blake turns in a consistently masterful performance, stretching bop and blues to upper register multiphonic cries on End of History.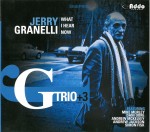 Jerry Granelli was a well-established drummer when he relocated to Halifax in 1987, and he's been releasing adventurous CDs as a composer and conceptualist as well ever since. The latest is What I Hear Now (Addo Records AJR030, addorecords.com) by his Trio + 3. The basic group is Granelli's trio with bassist Simon Fisk and tenor and soprano saxophonist Dani Oore, expanded with younger Haligonians, alto saxophonist Andrew McKelvey and trombonist Andrew Jackson, and topped off by Halifax-native Mike Murley. The four-horn front line balances sonic breadth with spontaneity. Mystery's serene voicings lead to airy overlays and echoes among the saxophones, while Swamp's combination of a rapid horn line and the rhythm section's slow back-beat inspires a certain funky bluster from all the horns.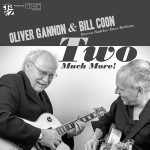 There's an infectious joy about Oliver Gannon and Bill Coon's Two Much More! (Cellar Live CL011815 cellarlive.com), the elite Vancouver guitarists commemorating the decade-old launch of their project Two Much Guitar! with a studio session accompanied by bassist Darren Radtke and drummer Dave Robbins. Gannon is a propulsive swinger with a fuller, bright, hard-edged sound who generates continuous melodic flow; Coon is a subtler, more elusive musician, floating over the beat with a glassy, slightly muted sound, more focused on harmonic invention. What matters most, though, is their evident pleasure in one another's musical company as they alternately lead and accompany in a program studded with masterful renditions of classic songs, many of them ballads like Billy Strayhorn's Chelsea Bridge, Johnny Mandel's Emily and Ellington's In a Sentimental Mood, before closing with Bobby Timmons' Moanin'.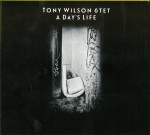 Another Vancouver guitarist, Tony Wilson, presents a dark vision of the city with his 6tet on A Day's Life (Drip Audio DA01107, dripaudio.com), a musical complement to his eponymous 2012 novella about the lives of the homeless and addicted living in the Downtown Eastside. The opening title track has Wilson in a relatively consonant mood, stringing out bluesy melody in a classic jazz style. It's a little harbinger of the music's expressive depths or looming terrors to come, whether springing from the leader or from the torrents of sound produced by trumpeter JP Carter's added electronics. Wilson's compositional vision is fleshed out throughout by an outstanding band, whether it's drummer Skye Brooks on The Long Walk or the strings of cellist Peggy Lee, violinist Jesse Zubot and bassist Russell Scholberg, all contributing to the piquant sweetness of Bobby Joe's Theme.