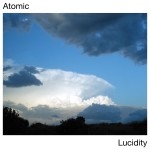 Lucidity
Atomic
Jazzland Recordings Norway No. 2
471-991 B (jazzlandrec.com)
First formed in 2000, the quintet Atomic has developed into a key voice in current jazz, its distinct identity comprised of strong rhythmic grooves, free jazz fireworks and the edgy ensemble precision of post-bop jazz. The Scandinavian band has honed its art in the furnace of frequent tours over years, becoming a genuinely international presence. Lucidity is the band's first CD since drummer Paal Nilssen-Love's 2014 departure and Hans Hulbœkmo's arrival, the band's first personnel change. Atomic has done more than survive the loss of Europe's most dynamic younger drummer: it's found a new balance.
With compositions provided by saxophonist and clarinetist Fredrik Ljungkvist and pianist Håvard Wiik, Atomic presses forward on strong personalities and rare flexibility, with the aggressive brassy presence of trumpeter Magnus Broo defining the ensembles and bassist Ingebrigt Håker Flaten the group's molten core. While Ljungkvist's Major swings hard and continuously, Wiik's Laterna Interfuit touches down on many bases, a gentle folk-like opening, a brashly dissonant fanfare and improvised passages that range through collective blowing from the horns and Wiik's own airy, post-bop interlude.
That quicksilver creativity extends to Ljungkvist's descriptively titled Start/Stop, from its eerie and slightly muffled night music beginning to its eventual rapid theme filled with wide intervals and accompanying clusters. Negotiating a shifting ground between composition and improvisation and a host of sounds, moods and methodologies, Atomic is devoted to keeping themselves and the audience engaged.