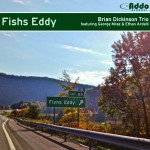 Pianist Brian Dickinson continues to build on a distinguished career that reaches back to the 1980s. The latest release by his trio, a nominee for the 2015 JUNO Jazz Album of the Year – Group, Fishs Eddy (Addo Records AJR023, addorecords.com) matches him with young drummer Ethan Ardelli and senior bassist George Mraz, whose long CV includes work with Oscar Peterson, Stan Getz and Elvin Jones. It's a perfect match given Dickinson's roots in Bill Evans' harmonically rich, lyrical style and Evans' evolution of the piano trio, giving a prominent place to the bass to develop strong countermelodies. There's a keening, reaching, welling lyricism here, a passionate rush of emotion rising from reverie. It begins on familiar melodic ground, George Gershwin's I Loves You Porgy, explored for over nine minutes, then turns largely to Dickinson's originals, the trio developing intense interactions around their harmonies and repeating figures.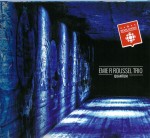 Quantum (Effendi FND 139, effendirecords.com) is the third CD from the Emie R Roussel Trio, a young group that has been consistently nominated for Quebec festival and media awards since its inception in 2010. It's easy to hear why. It's consistently engaging music, well thought out with an almost architectural sense of form. Building on rock-solid foundations provided by bassist Nicolas Bédard and drummer Dominic Cloutier, pianist and composer Roussel compounds a personal idiom that fuses post-bop jazz with R&B (think Joe Sample and George Duke), the instrumentation moving readily from acoustic to Fender Rhodes piano and electric bass. The acoustic highlight is Ipomée, a fine demonstration of Roussel's ability to construct tension by making incremental shifts in short figures, then contrasting short and long phrases; the electric Marée haute combines a deep groove and extended melodic development.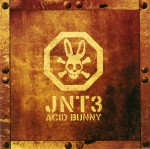 While the Roussel trio is happiest with a detailed road map, trombonist Jean-Nicolas Trottier builds energy through the exchange of ideas based on brief heads. Trottier is something of a big band specialist, but he pares it down to a trio on Acid Bunny (Effendi FND135). His JNT3, with bassist Rémi-Jean LeBlanc and drummer Rich Irwin, is a band of rare chemistry, quickly overcoming anyone's doubts about the limited range of a trombone and rhythm trio. Trottier has technique and energy to spare, making effective use of mutes and a bright high register to change things up. Reemy-Jeeny-Leblee is a fine example of the band's detailed rhythmic interaction and intense swing, while the elegiac Nouveau Patente has LeBlanc's arco bass line countering Trottier's elegant line, Irwin negotiating a ground between military ceremony and rubato.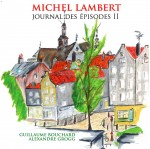 Michel Lambert is a real creative force, whether considered as a painter, percussionist or composer. His compositional vision is particularly evident in Journal des Épisodes II (Rant 1448, jazzfromrant.com), an exploration of a daily diary of compositions and paintings from the last six months of 1988. His group here is a traditional piano trio with pianist Alexandre Grogg and bassist Guillaume Bouchard; what makes it highly untraditional is the presence of 97 tracks on a 44-minute CD. Lambert's compositions can be as brief as seven seconds, as long as a couple of minutes, but whether microscopic or developed, they're compelling musical messages that achieve a kind of formal perfection, continuous with their surrealist aesthetic of the unconscious and their Webern-like economy. The material is at once so fragmentary and dense that each trip through the CD is another experience, tiny fragments in time creating new refractions with one another and with the sustained trio pieces.
Review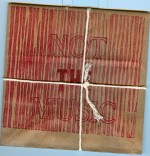 Éric Normand is another fount of creativity, working from his unlikely home base in Rimouski to form both a large improvising ensemble, the Grand Groupe Régional d'Improvisation Libérée, and the wide-ranging Tour de Bras record label, as creative in its design as in its music. While a recent GGRIL release appeared as a red vinyl LP, Normand takes a diametrically opposed route to packaging for Philippe Lauzier and Éric Normand's Not the Music / do (Tour de Bras, tourdebras.com), issuing the CD in a brown paper lunch bag with a printed cover. The music is just as provocative – sustained minimalist improvisations in which Lauzier's soprano saxophone and bass clarinet extend from single tones to circular breathing against a backdrop of Normand's electric bass and a snare drum that Normand sometimes plays and often uses as a vibrating surface.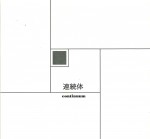 Montreal sound artist Pierre-Yves Martel creates dauntingly minimalist improvisations contrasting single tones on a renaissance viola de gamba and a harmonica with silences on Continuum (Tour de Bras TD89011CD). It's demanding work (Martel's intent extends to letting "the music 'play' both the performer and the listener"), an experience in which the act of listening may be dissected and stitched back together, the music developing a severe and icy beauty in the process. Available as limited edition CDs or downloads, extensive portions can be heard at the label's website.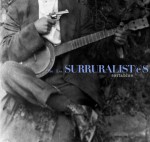 Among music's stranger documents is a letter from Woody Guthrie to John Cage, greeting his music as "a keen fresh breeze." It might have inspired The/Les Surruralist(e)s on Sortablue (SURRU 01, actuellecd.com). The duo of Nova Scotia-based Arthur Bull (guitars, harmonica and voice) and Normand (electric bass, tenor banjo and voice) explore early blues and folksongs from perspectives shaped by free jazz and improvised music, adding a raw electric edge and weirdly dissonant accompaniments to traditional instrumental approaches and songs like La Femme Du Soldat and Stagger Lee. The two create a new tradition in the same breath that they pay homage to others.