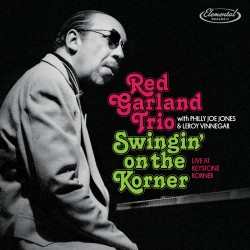 Swingin' on the Korner
Red Garland Trio
Elemental Records 5990426
(elemental-music.com)
Red Garland brought an electric brightness to the piano, whether playing block chords or scintillating runs; Philly Joe Jones, a polyrhythmic master, was perhaps the most explosive drummer in jazz history. They were key parts of one of the greatest bands in that history, Miles Davis' mid-50s quintet, until Davis fired them in 1958 for unreliability. This two-CD set catches the two of them nearly 20 years later during a week in December 1977 at San Francisco's Keystone Korner, anchored by the fine bassist Leroy Vinnegar, a worthy partner. Garland had gone through stretches of retirement by then, and Jones was less prominent than when he propelled many of hard bop's greatest records, but if they were supposed to go gently into that good night, the two hadn't gotten the message. The genre never burned more brightly.
The music is almost entirely standards, drawn from Garland's vast repertoire, including a sweetly balladic rendition of the obscure If I'm Lucky, a signature swinging arrangement of Billy Boy and a soulful version of Bags' Groove that celebrates Garland's mastery of blues. Familiarity feeds the trio's fervour: this is joyous, raw music, touching, even reckless. Sometimes subtle, Garland can match Jones for sheer ferocious energy; Jones creates wild oblique patterns with thundering drums, building complex, melodic solos against a beat that's only implied.
The set includes extensive interviews and memories of Garland from some noted critics and musicians: it's the first such tribute to a pianist who deserves far more attention.