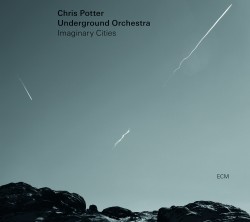 Imaginary Cities
Chris Potter Underground Orchestra
ECM 2387
Saxophonist Chris Potter first garnered attention as a sideman to senior masters, from 1994 figuring prominently in the bands of the late drummer Paul Motian and the bassists Dave Holland and Steve Swallow. In the past decade, he's emerged as a leading figure in the contemporary mainstream, combining emotional power and an expansive creativity. He's previously written for a ten-piece ensemble (Song for Anyone, 2007) and his last CD, The Sirens, was an extended suite inspired by Homer's Odyssey. On Imaginary Cities he's augmented his usual Underground quartet to an 11-member orchestra, adding vibraphone, two basses and a string quartet.
In the four-part, 36-minute title suite and four unconnected pieces, Potter constructs strong themes, synthesizing elements of jazz and classical music and matching them with rhythmic patterns sourced from as far afield as funk and Balinese gamelan to create complex grounds that both stimulate and merge with the improvised solos. Potter's strengths are apparent from the opening Lament. His sound is flexible and expressive, hard, bright and capable of great nuance. On faster tempos, there's a whiplash suddenness to his phrasing, while an ingrained nobility of line enhances the elegiac work.
Well past any traditional concept of the big band, Potter's pieces for orchestra create a complex web of materials that feed his partners' spontaneous impulses as well as his own. His regular band members – pianist Craig Taborn, guitarist Adam Rogers and drummer Nate Smith – all stand out, as do vibraphonist Steve Nelson and violinist Mark Feldman.