If a single quality distinguishes much of what's best in Canadian jazz it's lyricism, a warm, singing focus on melody that links many of our best musicians, whether they choose to stay near home (Ed Bickert) or move away (Paul Bley). It's a quality shared by three distinguished recent releases, though they differ in style and locale.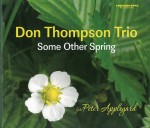 Some Other Spring by the Don Thompson Trio (Cornerstone 144, cornerstonerecordsinc.com) is an elegy in advance. Dedicated to Peter Appleyard, it was recorded a couple of months before his passing in July 2013, but Thompson reflects that the great vibraphonist was in his thoughts during the recording. While the multi-instrumentalist Thompson may be less well-known for his vibraphone playing than for his skills as a bassist and pianist, he's a fine player, his work imbued with a resonant lyricism. He's joined here by guitarist Reg Schwager and bassist Neil Swainson, comparable masters and long-time associates (for many years the three played in George Shearing's quintet) in a program of standards and a few originals. It's state-of-the-art chamber jazz, with superb renderings of some lesser-known pop songs, like Hoagy Carmichael's One Morning in May, as well as classic jazz tunes like Django Reinhardt's Nuages.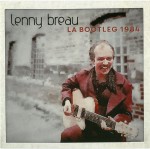 There's more great guitar playing on Lenny Breau's LA Bootleg 1984 (Guitarchives 270201, linusentertainment.com), the first release of a club set from Donte's in Hollywood recorded just two months before Breau's death. Breau was a celebrated technician and his work (especially commercial recordings) sometimes suffered from pastiche, his playing marred by a clutter of classical, flamenco and country & western elements. Here there's none of that, just intensely focused playing on familiar tunes with the empathetic support of bassist Paul Gormley and drummer Ted Hawk. Breau's technical brilliance and harmonic invention (he was strongly influenced by pianist Bill Evans) come to the fore on ballads and up-tempo performances alike. His version of Tadd Dameron's If You Could See Me Now is sublime, a composer's harmonic subtlety igniting a performer's.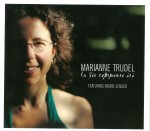 Pianist/composer Marianne Trudel has emerged in recent years as one of Quebec's brightest talents, a musician of considerable depth with a strong identity. La Vie Commence Ici (Justin Time JTR-8588-2 justin-time.com), a quintet date featuring British Columbia (by way of New York) trumpeter Ingrid Jensen, is her finest work to date. The instrumentation proceeds from an opening duet through mutations of the ensemble and a rich sense of timbre and voicings. At times Trudel's material can suggest Mozart, at other times Ravel, but it seems to proceed from the title, developing a meditative depth that communicates a reverence for life. The title track demonstrates how well Trudel can orchestrate, reducing the ensemble to just Morgan Moore's pizzicato bass for the theme, then later repeating it with a duo of bass and minimal piano. Saxophonist Jonathan Stewart and drummer Robbie Kuster contribute effectively, but Trudel's compositions seem to find their fullest voice in Jensen's soaring, passionate performance.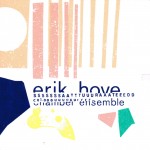 Montreal is currently serving as an incubator for innovative jazz composition. While Trudel represents the mainstream, alto saxophonist Erik Hove (originally from Vancouver) has radical forebears, drawing on influences from the microtonal spectral harmonies of contemporary French composers Gerard Grisey and Tristan Murail and the rhythmic languages of American saxophonist/composers Steve Coleman, Henry Threadgill and Anthony Braxton. Hove's Chamber Ensemble on Saturated Colour (erikhovemusic.com) is an imaginative nonet mixing winds and strings and relatively traditional bass and drums with standout performances from flutist Anna Webber and violinist Josh Zubot. A tree by a pond, half-lit is evanescent, a subtle spray of high-pitched sounds, while Inner Chamber and Brain Freeze find disjunct but genuine grooves. Hove the soloist is clearly an improviser who thrives on complex support, and Hove the composer is adept at supplying it.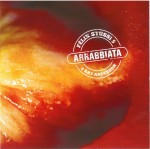 Pianist/composer Félix Stüssi relocated from Switzerland to Montreal in 1998, and within a few years was leading a quintet that still includes saxophonists Alexandre Côté and Bruno Lamarche, bassist Clinton Ryder and drummer Isaiah Ceccarelli. Since 2008 it's been Félix Stüssi 5 & Ray Anderson, celebrating the American's status as one of the trombone's most virtuosic, creative and witty performers. On Arrabbiata (Effendi FND133, effendirecords.com), Stüssi works from a varied palette, evident immediately with Funda-Mentally, a distant relation of Tiger Rag that turns into free improvisation at the drop of a cue. His energy and humour can be reminiscent of Charles Mingus, with broad farcical nods to ancient idioms mixed with energized revisions of blues, bop and gospel. Côté and Ceccarelli provide fine moments, but it's ultimately Anderson's show: he can exaggerate the trombone's traditional vocal proclivities to the point of parody while leaping registers or playing double-time bop.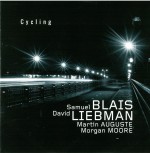 Samuel Blais is a young Montreal saxophonist who has come a long way since his 2008 debut CD Where to Go. He's earned a masters in Jazz Performance from the Manhattan School of Music under the direction of saxophonist Dave Liebman, and he commemorates the relationship with Cycling (Effendi FND137), the two saxophonists getting together with bassist Morgan Moore and drummer Martin Auguste during a break in a saxophone quartet tour. It's a loose blowing session on a batch of originals, played in a joyous spirit of mutual regard and inspiration. Blais plays baritone, alto and soprano, Liebman, tenor and soprano, and they exploit the possibilities for similarity (two sopranos on Liebman's title tune) and difference (baritone and soprano on Blais's Interludio Obscurio). The only familiar tune is A Taste of Honey, the modal theme leading to some inspired Coltrane-flavoured collective improvisation.