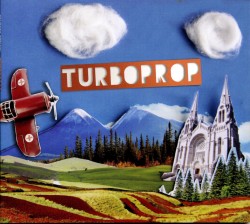 Turboprop
Ernesto Cervini
Anzic Records ANZ-0047
(ernestocervini.com)
Expanding his Turboprop quartet by adding the breezy Desmondesque alto and soprano saxophone of Tara Davidson and trombonist William Carn's mellow harmonies, local drummer Ernesto Cervini is able to buttress still further his sophisticated arrangements of standards and originals. With wider breadth the sextet interprets lines by Charlie Parker, Keith Jarrett, Debussy and a song from Charlie and the Chocolate Factory in its program.
Admirable as that is, the compositions – mostly by the drummer – as well as the playing by fellow Torontonian pianist Adrean Farrugia plus New Yorkers, tenor saxophonist Joel Frahm and bassist Dan Loomis, are strong enough on their own to move without extra impetus. Taken as a group in fact, the speedier cover tunes are a little fluffy and the slower ones overly enervating. On the other hand, Jarrett's The Windup, with concise jittery piano chording and this-side-of-R&B tuneful slurs from the saxes, gives the CD an appropriate bouncy finale; and the cover of Parker's Red Cross showcasing slippery slides from Farrugia produces some of his best playing on the date.
Yet overall the originals, with Cervini's Fear of Flying and Three Angels particular standouts, are far superior. Both are based around the breathy flutter tonguing of Frahm – whose spiky swiftness is further showcased on his own De Molen – though Cervini's lines better integrate Frahm's reed work within the expositions. Fear of Flying, for instance, contrasts a floating cool jazz-like head with enough tough beats from the composer to preserve a robust narrative. More sombre and ethereal, the second tune moves forward with a swinging undertow, but this flexibility never upsets its mood of profound sadness and distance. Here too the elusive balance between Frahm's expressive soloing and the backing horn choir creates an expressively memorable narrative.
A member of many Toronto-based aggregations, Cervini demonstrates his additional skills as an arranger with this beefed-up ensemble. Notable as this CD may be, tying up the few loose ends remaining with additional work portends even higher quality sounds on future sessions and in person for this sextet.