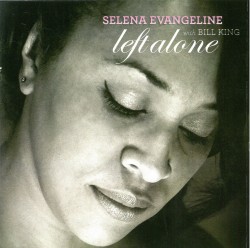 Left Alone
Selena Evangeline; Bill King
Slaight Music 6 16969 997869 (selenaevangeline.com)
With the third installment of Slaight Music/7 Arts Entertainment's excellent piano/voice duet series, renowned pianist Bill King has collaborated with a vocally stunning partner – Selena Evangeline. An auspicious debut for Evangeline, the recording is an homage to some of the greatest ladies of song, including Gladys Knight, Dinah Washington, Dionne Warwick, Sarah Vaughan, Billie Holiday and contemporary artists Dianne Reeves, Anita Baker and Lizz Wright. On each track, Evangeline's sumptuous voice has placed its own unique, interpretive stamp, and King repeatedly raises the art of vocal accompaniment to a new level of insight, depth and skill.
Evangeline's rendering of the Dionne Warwick hit A House is Not a Home plumbs new emotional depths, and her smoky, sensuous alto easily captures and exalts in every possible nuance. Inspired phrasing, exquisite intonation and creative melodic play, the earmarks of Evangeline's style, are evident on each and every track of this tasty sonic buffet. King is the perfect complement for Evangeline – putting into use his wide range of stylistic experience, taste and musical skill.
Of particular note are the soulful If You Don't Know Me By Now, featuring King on piano and Hammond B3 with stirring lead and multi-track vocals from Evangeline; the haunting title track from the canon of Billie Holiday; a deeply soulful take on Gladys Knight and the Pips immortal Midnight Train to Georgia and a gorgeous re-boot of Anita Baker's Rapture. This recording is a total delight, and if you purchase only one vocal/piano duo album in 2015 – make this one it.