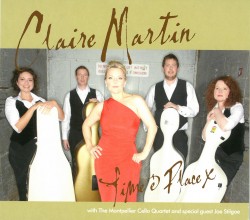 Time & Place
Claire Martin; Montpellier Cello Quartet; Joe Stilgoe
Linn Records AKD 423
Delightful British jazz vocalist Claire Martin's new release, Time and Place is a well-conceived, well-produced and expertly performed recording, featuring Martin at the top of her vocal game in collaboration with the renowned Montpellier Cello Quartet as well as with an ensemble of gifted and cooking jazz musicians, featuring special guest, pianist and vocalist Joe Stilgoe.
Martin is known for her versatility, as well as for her unique, dusky, sensuous, cello-like voice… part Dusty Springfield and part Julie London with a dash of Irene Kral. On Time and Place she also displays her gift for selecting diverse, perhaps unusual material, and making it her own – with compositions included from David Bowie, Joni Mitchell and Thelonious Monk.
The levels of melancholy on this CD (particularly on the cello-infused tracks) are quite profound – which is no surprise – as just previous to the project, Martin's close friend, mentor, teacher and creative partner Sir Richard Rodney Bennett passed away. Loss is a theme that echoes in several of the exquisite tracks, including the Beatles' She's Leaving Home and Gershwin's timeless anthem of lost love My Man's Gone Now. The string arrangements and the sonic intermingling of the cellos with Martin's sonorous vocal instrument are simply breathtaking.
The closing track, Goodbye for Now comes from the aforementioned Bennett – who may have left us in the physical sense, but his impeccable musical standards, influence, taste and brilliant musicianship are all present and accounted for on Time and Place.