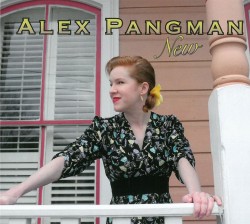 New
Alex Pangman
Justin Time JTR 8587-2
There can be no doubt that that Alex Pangman – Canada's own "Sweetheart of Swing" – is a national treasure and a true original. Feisty, authentic and a fully realized music historian, Pangman has continued to delight with New, her latest recording on Justin Time Records. For this project (and not unlike Aretha heading to Muscle Shoals, Alabama), Pangman has bravely stepped outside of her musical and experiential comfort zone by recording in the historic Algiers section of New Orleans – accompanied by the popular local depression-era swing band, the Cottonmouth Kings. It seems apparent that an important part of this creative process was Pangman's collaborator, producer/engineer (and Canadian ex-pat) Andrew "Goat" Gilchrist.
New is a mature album, and Pangman's voice – while still maintaining her clear, luminous sound – now reflects the depth and subtext of her own life experience. She is fearless in her emotional openness – imbuing each of the ten tasty tracks with large dollops of confidence, sensuality, joy, irony and maybe even a certain ennui.
Thoroughly enjoyable tracks include Fit as a Fiddle (and Ready for Love), which features rambunctious, Joe Venuti-esque violin work by Matt Rhody. The popular Tin Pan Alley tune also has special meaning for Pangman, who recorded this track only seven months following her second double-lung transplant, and was finally feeling "Fit as a Fiddle." Canadian composer Ruth Lowe's I'll Never Smile Again is a beauty – performed with a languid, Crescent City feel which suits Pangman's sultry alto, and she also swings it sweet and low on You Let Me Down.