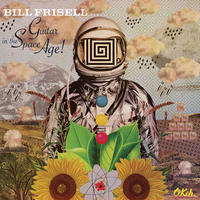 Guitar in the Space Age
Bill Frisell
Okeh 88843074612 (okeh-records.com)
In a career spanning four decades, Bill Frisell (born 1951) has taken the idea of jazz guitar in very different directions, emphasizing sonic architecture and sustained tones in explorations ranging from free improvisation and noise music to traditional blues and folk, country and western and mainstream pop. Guitar in the Space Age is a direct invocation of the music that first influenced Frisell, the world of electric guitar instrumentals of the late 1950s and 1960s, spanning country, rock and its own genre, surf music.
Pedal steel guitarist Greg Leisz extends Frisell's fondness for bending, reverberant tones, suggesting the period song that's key to this project may be one that's not here: Santo & Johnny's 1959 hit Sleepwalk. This is a sonic dreamscape, in which melodies like Surfer Girl are slowed down and magnified, with sound so rich and dense that Sputnik-era nostalgia (pedal steel virtuoso Speedy West's Reflections from the Moon – almost C&W Sun Ra in its original form – and The Tornado's Telstar) assumes cathedral-like dimension.
Frisell both reimagines this music and restores it, along the way touching on the fundamental synthesis of jazz and country in pieces like Merle Travis' Cannonball Rag and Jimmy Bryant's Bryant's Boogie as well as invoking the broad sweep of the moral compass of the times, from the Byrds' ringing arrangement of Pete Seeger's Ecclesiastes-fuelled Turn, Turn, Turn to Link Wray's juvenile delinquent anthem Rumble.