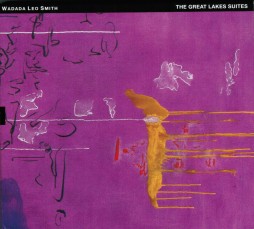 The Great Lakes Suites
Wadada Leo Smith
Tum Records Tum CD 041-2 (tumrecords.com)
Trumpeter/composer Wadada Leo Smith is one of the most ambitious and engaged creators in jazz. In 2012 he recorded his epic tribute to the American civil rights movement, Ten Freedom Years, a four-CD suite for his jazz quintet and chamber ensemble that had been over 30 years in the making. The same year he recorded Occupy the World, with the 22-member TUMO improvising orchestra. His Great Lakes Suites spans two CDs but the manpower is much more concentrated, a quartet in which Smith is joined by three masters: Henry Threadgill on reeds, John Lindberg on bass and Jack DeJohnette on drums.
Smith's interest in the Great Lakes focuses on the contrast between their flat surface and their potential turbulence, along with aspects of transportation, communication and wave formation. The music is fittingly spare, at times unfolding with a declarative simplicity. The emphasis on stark solo voices – whether Smith's trumpet or Threadgill's saxophone or flute – conveys the drama of great natural forces. We are repeatedly drawn to his subject: an extended passage of rattling percussion in Lake Michigan might simply be a consequence of natural movement. Similarly a dialogue of bass and drums suggests all the creaks and activities of a dockside. There is never any sense here of imitative sound, but analogues keep arising for Smith's compelling subject matter.
Like his other recent works, Smith's Great Lakes Suites explores corresponding processes in music, history and geology. By finding musicians who can also sustain this extended meditation, Smith succeeds brilliantly.