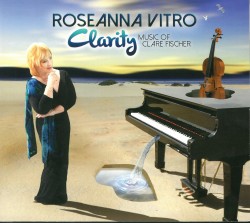 Clarity – Music of Clare Fischer
Roseanna Vitro
Random Acts Records RAR1016CD (randomactrecords.com)
With the passing of gifted Los Angeles-based composer/arranger/keyboardist Clare Fischer, not only did El Lay lose one of its top creative innovators, but the international music community also lost an artist who, since his 1962 LP Bossa Nova Jazz Samba with the late Bud Shank, had consecrated himself to the genres of Afro-Carribbean, Brazilian and a wide variety of Centro/Sul American Musics – notably represented in his 1981 GRAMMY-winning Clare Fischer and Salsa Picante Present 2 + 2.
With the release of her latest recording, NYC jazz vocalist/educator/composer/arranger Roseanna Vitro (along with producer Paul Wickliffe) has not only framed a gorgeous tribute to the work of Fischer, but has successfully expanded the jazz canon by deftly mining the exquisite, harmonically complex music that is Clare Fischer's legacy. The CD includes six of Fischer's never previously sung compositions (some with new original lyrics), and is also the first and only vocal book developed by a solo singer of his music.
Accompanying Vitro on this remarkable journey are her longtime collaborators, including pianist/arranger Mark Soskin as well as Weather Report percussionist Mino Cinelu. Standout tracks include a fresh, percussive, scat-filled take on "Morning" and also "Life's Journey," which features a complex, rhythmic arrangement and dynamic work by violinist Sara Caswell and pianist Soskin. One track stands alone in its perfection – the deeply moving ballad "Sleep My Child," a flawless musical diamond around which Vitro wraps her rich, luxurious contralto.
Vitro is not only a consumate jazz vocalist, but through the auspices of this important artistic project, she has also emerged as a true conservateur and curator of jazz.