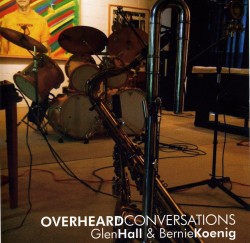 Overheard Conversations
Glen Hall; Bernie Koenig
Slam Productions CD 552 (slamproductions.net)
A reflective and comfortable musical conversation between reeds and percussion, the dozen brief duets by Toronto saxophonist/flutist Glen Hall and drummer/vibraphonist Bernie Koenig from London, Ontario have all the hallmarks of overheard dialogue. Some interjections are predictably of paramount interest to those involved; others, which stretch the capacities of the instruments and musicians, are as insightful as discussions from more formally organized sessions. Seemingly recorded in real time, luckily the discourse intensifies as it evolves.
While Hall gradually defines his parameters with tenor and soprano saxophone slurs and smears via John Coltrane's influence, Koenig's drum pulses are a bit more rigid, not really coming into strong focus until – and perhaps because of – "Time for a Stiff Drink." Mixing martial-like ruffs with supple rolls, he meets Hall's mellow elaborations head on and effectively. From then on sound snatches capture a wide-ranging conversation. Snaky bass flute timbres countered by off-centre plops suggest Arabic music on Trust Me, while rugged reed split tones attain screaming heights on "Things Are Looking Up" though the drummer's carefully paced beats keep the theme chromatic. Additionally the whap of sticks on Mylar and wood during "Look at Her!" insinuate two percussionists at work as Hall's altissimo snarls create a fanciful verbalization of overbearing Buddy Rich strokes backing "Caravan" played by Albert Ayler.
Like old friends winding down their conversation before they part, the reedist and percussionist save their excursions into chamber jazz for the last few duets. With Koenig's sparkling vibraphone strokes attaining sonorous swing, the unique multi-colours Hall sources from his flute on tunes such as "I Understand Why You Are So Melancholy" reflect the skills of these sophisticated communicators who can comfortably express emotions instrumentally.
Concert Note: Glen Hall's Rub out the Word: A William S. Burroughs Centennial Event is at The Music Gallery November 7.