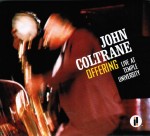 Offering: Live at Temple University
John Coltrane
Impulse! B0019632-02
No musician in jazz has created the stylistic transformations of John Coltrane, moving in little more than a decade through the harmony-rooted "sheets of sound" of the late 1950s and the modal period typified by his hit My Favorite Things in the early 1960s, ultimately to embrace and extend the most intense form of free jazz, "energy music," in the two years prior to his death in 1967. This 2CD set presents a relatively well-recorded concert in Philadelphia just eight months before his death.
Coltrane's last band was characterized by the rapid fluttering scales of pianist Alice Coltrane, the dense percussive fields generated by drummer Rashied Ali and, exceeding Coltrane himself in turbulent fury, saxophonist Pharoah Sanders, generating mad wails and honks that somehow erupted into polyphony. On this occasion, the band was augmented by a complement of four hand drummers and two young saxophonists sitting in.
The repertoire was already classic Coltrane – Naima, Crescent, My Favorite Things – but the treatment rarely is. This is jazz eschatology, religious and revolutionary, a vision of heaven and hell in which sounds may writhe in ecstasy or torment. Coltrane's own sound is transformed by a tight vibrato and when he has taken his horn to its expressive limit he turns to chanting, pounding his chest for vibrato, in a performance that is as much rite as concert. This music has divided jazz audiences for half a century and still demands to be heard.