Pianist/composer Kris Davis has followed a musical path from her native Vancouver to Calgary to the University of Toronto and on to Brooklyn, where she's a key member of one of the world's most creative jazz scenes, playing solo, leading her own ensembles and working in a number of bands and ad hoc ensembles with other notable musicians like saxophonists Ingrid Laubrock and Tony Malaby and guitarist Mary Halvorson.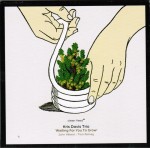 A recent highlight is Waiting for You to Grow (Clean Feed CF292 cleanfeed-records.com) by her trio with bassist John Hébert and drummer Tom Rainey. Recorded in May 2013 after the group had just completed a European tour, the CD demonstrates both developed empathy and a keen familiarity with the nuances and possibilities of Davis' compositions. At times, Davis and her partners seem to be redefining the piano trio in percussive terms that see instruments playing essentially rhythmic patterns, often elaborating dense polyrhythms. If that suggests an exploration of the roots of jazz in African music, it's also aligned here with the early percussion music of John Cage. The sonic explorations of another experimental composer are referenced directly in Berio, a complex, analytical work that suggests the compound methodologies of late serialism as much as the free play of sonic particles.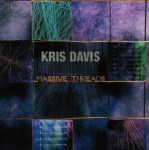 Those references to modern concert music take even greater prominence with Massive Threads (Thirsty Ear THI57208-2 thirstyear.com), Davis' second CD of solo piano music. It's somber and playful, spontaneous and inevitable, an outstanding CD in any genre to which it might be assigned. The title track moves from ponderous bass clusters in alternating hands, eventually progressing upward in pitch, becoming quieter all the time, until it disappears. Many of the pieces are built around similar ideas of transformation. In the remarkable Ten Exorcists for prepared piano, Davis initially creates complex rhythmic dialogue around a single pitch. Dancing Marlins is playfully pointillist in the extreme, its random Morse code eventually turning into phrases that would be at home in the blues. Thelonious Monk's Evidence reveals itself in evanescent bits, finally emerging as a continuous two-handed improvisation in multiple meters.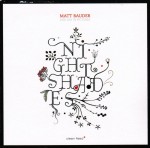 Davis' position at the forefront of current jazz is further apparent in her membership in tenor saxophonist Matt Bauder's Day in Pictures on Nightshades (Clean Feed CF289). The idiom is post-bop, with roots in the mid-60s Blue Note school of Sam Rivers and Andrew Hill, but it's also informed by a further 50 years of improvised music, with both traditions firmly in place, whether in the foreground or lurking in the shadows. Davis' lines are at once limpid and precise on Bauder's Starr Wykoff, a ballad that might have been penned by Thelonious Monk in 1958. Apparently named for the Brooklyn coffee shop called Wykoff Starr, it might even be a Monk title. Elsewhere sudden random runs from Davis and explosions of multiphonics from Bauder and trumpeter Nate Wooley (the two Americans are also the frontline in expatriate drummer Harris Eisenstadt's Canada Day) confirm this is insistently current music.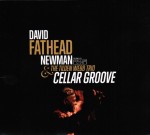 Cory Weeds' policy of bringing in guest artists to perform at Vancouver's Cellar Jazz club has created some memorable collaborations. David "Fathead" Newman & the Tilden Webb Trio's Cellar Groove (Cellar Live CL090113 cellarlive.com) is definitely one of them. Newman, who died in 2009, was already 71 when this was recorded in 2004. Best known for his work with Ray Charles, Newman was an adept saxophonist and flutist who could hold his own with hard bop masters like Lee Morgan when the opportunity arose. Here he tours the terrain of bop (Dizzy Gillespie's A Night in Tunisia), hard bop (Hank Mobley's This I Dig of You) and modal jazz (pianist Webb's Roundabout), clearly enjoying the superb accompaniment of Webb's trio with bassist Jodi Proznick and drummer Jesse Cahill, a band in itself that propels Newman and his enthusiasm alike.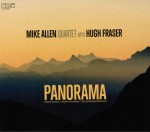 Another Vancouver band that shows the positive effects of working regularly is the Mike Allen Quartet with pianist Miles Black, bassist Adam Thomas and drummer Julian MacDonough. Embracing a broad modernism, the group has hosted the official jam sessions of the Vancouver Festival for years and they're also the jazz ensemble-in-residence at Western Washington University where saxophonist Allen directs the jazz program. On Panorama (Cellar Live CCL121013), trombonist Hugh Fraser, whose suave bluster has long graced Vancouver jazz, is the featured guest. Allen has his own sound, at once forceful and muffled, and it gives his work immediate dimension, but every musician here contributes to a consistent sense of substance. The opening Get Back may be playful jazz funk, but Allen's Let Go Rise Atone and Black's San Miguel are imbued with luminous depths.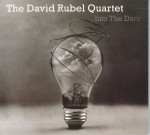 The members of the David Rubel Quartet are all at the outset of their careers. Products of Jazz Studies at the University of Toronto, tenor saxophonist Rubel, pianist Winston Matsushita, bassist Malcolm Connor and drummer Robin Claxton range in age from the early to mid-20s. On Into the Dark (davidrubelmusic.com), Rubel's current emphases are a strong melodic focus and repeated modal figures, delivered with a rich tenor sound over infectious rhythms, including 5/4 and 7/4. It's engaging, well-played music with a strong sense of mood, though at this stage that very consistency threatens at times to turn it into background music. The highlight is Matthew, with Rubel adding sudden, fluting, upper register swirls to vary his approach.