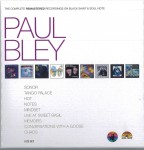 Paul Bley (Complete Black Saint and Soul Note recordings)
Paul Bley
Black Saint; Soul Note BXS 1027
If one is asked to name the most popular or famous Canadian jazz performers, certain names trip readily to the tongue, likely Diana Krall and Oscar Peterson. If asked to name the most creative or influential, it's almost as easy, likely the Montreal-born pianist Paul Bley or Toronto-born trumpeter Kenny Wheeler. Since his recording debut as a leader over 60 years ago with modernist giants Charles Mingus on bass and Art Blakey on drums, Bley has worked near the vanguard of jazz, crafting a distinctively minimalist yet freely lyrical solo style, leading a series of highly interactive bands from trios to quintets, developing new idioms with legendary figures like Ornette Coleman, Sonny Rollins and Jimmy Giuffre, and influencing pianists like Keith Jarrett and Brad Mehldau.
Much of Bley's creative range and some of his key partnerships are apparent in this 10-CD set that collects his work for the Italian Soul Note label between 1983 and 1994. His special creativity as a soloist is apparent in Tango Palace, including his deft reimagining of tango and barrelhouse. His willingness to map out a new music with fresh partners is apparent in the duets of Sonor with Toronto percussionist George Cross McDonald or those of Not To Be a Star with saxophonist Keshavan Maslak. He seems just as happy, though, getting together with long term associates. The 1993 Conversation with a Goose was the last recorded meeting of the trio with clarinetist Jimmy Giuffre and bassist Steve Swallow that first played together in 1961 and whose understated style of closely interactive, free improvisation is still finding new adherents.
There are a couple of propulsive, harder-edged New York quartets with guitarists – Hot with John Scofield and Live at Sweet Basil with John Abercrombie – while Bley may reach furthest on Chaos, an aggressive program of free improvisation with Italian bassist Furio di Castri and English percussionist Tony Oxley. The best moments, though, seem to come with the longest standing associations, with musicians who share Bley's profound sense of sound and duration: the luminous trio of Memoirs, with bassist Charlie Haden and drummer Paul Motian, and Mindset with bassist Gary Peacock, a sublime exchange of ideas that seems continuous with the studio's resonance.