As the strictures of advanced contemporary music continue to loosen, more improvisers are taking advantage of the freedom to experiment. A parallel outgrowth is the number of players of almost any instrument willing to nakedly expose their skills in all solo sessions. Commonplace doesn't mean accomplished however. Still the best dates, such as the CDs cited here, offer original perspectives on the sounds of an individual instrument.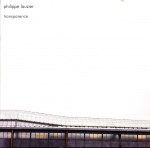 Montreal's Philippe Lauzier used three studios to record the 12 tracks which make up Transparence (Schraum 18 schraum.de), as well as coming up with different strategies for different instruments. Heard on bass and half-bass [sic] clarinet, alto and soprano saxophones plus motorized bells, he uses amplification, feedback and multitracking to express his unique ideas. Geyser for instance reimagines the bass clarinet as hollow tube and percussion, swallowing and expelling pure air as he depresses the keys. Au-dessus on the other hand magnifies the soprano saxophone's usually ethereal qualities into overlapping vibrations, with the next commencing before the previous one has died away. In contrast, alto saxophone feedback on L'object trouvé literally does as defined, managing to direct the echoes back into the horn's body tube while making each finger motion and breath transparent. The audacity of Lauzier's skill is most clearly delineated on En-dessous. Here the multitracking of four bass clarinets creates more variety among the timbres he exhales, but the intertwined and affiliated trills produced relate without question to the multiphonics he invented for a single horn.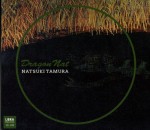 With only three valves instead of many keys, the trumpet is more difficult to put into a solo setting. But Natsuki Tamura does so memorably on Dragon Nat (Libra Records 101-032 librarecords.com). During the course of eight instant compositions he manages to probe the farthest reaches of the trumpet's range while subtly maintaining a pleasing, near-lyrical continuum. Occasionally sounding as if he's turning the instrument inside out for maximum metallic vibrations, he also employs half-valve effects and mouthpiece osculations. Rubato and agitated, his glissandi are often further segmented as they move from growling frog-like ribbits to hummingbird crying flimsiness. Most characteristic of the tracks is the appropriately named Dialogue where he vocalizes Daffy Duck-like nonsense syllables and infant cries and shakes bells for auxiliary colours. Before a sodden, open-horn ending that relates to the track's folksy head, he sneaks in a reference to Monk's Dream. Elsewhere In Berlin, In September demonstrates Tamura's perfect control as the narrative becomes successively louder, softer, faster and slower without losing its thematic thread. Within, its delicate story telling references abound, not only to muted mid-1950s Miles Davis-like timbres but to the Burt Bacharach melody for A House Is Not a Home.
While solo sessions have multiplied over the past few years, one person who was experimenting with the singular form as long ago as 1976 is multi-instrumentalist Joe McPhee. Sonic Elements (Clean Feed CF278 CD cleanfeed-records.com) is his most recent set in that genre. Demonstrating the breadth of his skill, he divides this 41-minute live set in half, improvising on pocket trumpet in honour of Don Cherry at the beginning, and concluding with a salute to Ornette Coleman on alto saxophone. That said McPhee doesn't replicate any Coleman or Cherry licks during the performance. Instead he creates a distinctive sound picture of each individual. With Wind-Water McPhee's Cherry snapshot is built up from plain air pops, watery growls and spiralling grace notes. When the output swerves into tonality a mellow melody appears only to be deconstructed with staccato guffaws, sharp whistles and vocal murmurs. An extended final sequence is balanced with vocal cries and whispers that help illuminate the dedicatee's heartfelt struggle for peace. Meanwhile, if anything Earth/Fire-Old Eyes proves that Coleman's purported wild experimentation is based on the bedrock of jazz: blues and work songs. Using maximum emotionalism and minimal notes here, the saxophonist's initial tongue slaps and altissimo cries give way to a sequence which includes foot-stomping percussiveness and a theme that could practically be a pre-Emancipation song of celebration. As the countrified line is hardened, tremolo echoes, reminiscent of primitive bagpipe or concertina airs confirm this connection. The climax occurs as sharp, staccato interjections and the composition's sweet, yearning textures become one and the same.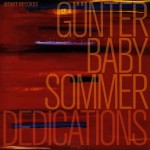 Another solo suite of tributes is Dedications (Intakt CD 224 intaktrec.ch), where Günter Baby Sommer uses a collection of drums and percussion instruments to honour his influences and contemporaries. With humour, sensitivity, cleverness and spoken passages mostly in English, Sommer displays the skills that enabled him to build an international reputation while living in pre-unification East Germany. He also pulls off the feat of emulating aspects of the other drummers' styles while staying true to his own. For instance the wood block clip clops and bass drum wallops which characterized the playing of Baby Dodds, from whom he received his nickname, is filtered through modern sensibility on Von Baby zu Baby, as he bends notes alongside a linear motion. Honouring Han Bennink during Harmonisches Gerassel für Han, he adds offbeat rhythms, tuned bell ringing, Eastern-styled beats and a touch of vocalizing without ever losing the basic jazz rhythm. Saluting Art Blakey on Art Goes Art, Sommer tootles an ocarina and a shawm to underline the linkage between Blakey's proletarian Pittsburgh roots and the East German working class. In between showcasing characteristic Blakey-like press rolls and vamps, Sommer's lilting humour shines through, especially when he produces a march beat that's as much Albert Ayler as agit-prop. Selfportrait is a culmination of all this. Weaving a polyrhythmic spell, almost without pause, he exposes African wooden slit drum tones, sophisticated modern jazz on the snares plus laughs, whoops and some German explanation as he confirms his own inclusion in this percussion pantheon.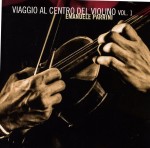 Picking up a different thread, Italian Emanuele Parrini confirms the solo violin's viability in his nine-part Viaggio al Centro del Violino (Rudi Records RRJ1015 rudirecords,com), although he cheats afterwards, adding four short melodic duets with violist Paolo Botti. Parrini's suite is organically organized, flowing from exposition to conclusion and maintaining a continuum while showcasing a case full of extended techniques. After establishing the parameters of the romantically tinged theme with sweeping echoes and dynamic stops, Parrini deliberately sets out to sabotage them on Abstract No. 1, alternating mandolin-like picking with sympathetic four-string emphasis that takes on pastoral qualities by the following track. His improvising contains too many jagged bent notes to be truly folkloric however, and midway through with the bow pressuring four strings simultaneously, the pastoral melancholy of Requiem for L.J. gives way to the rapid dynamism of Black Violin with its spiccato skips, and climaxes with Blues P. No more a standard blues than Parrini is Stephane Grappelli, his dexterity suggests a blues feeling, but with a particularly Italian cast. Scratching his way from the fiddle's scroll to its tip, the resulting multiphonics are emotional, rhythmic and satisfyingly conclusive.
Viaggio al Centro del Violino translates as Journey to the Center of the Violin in English. The phrase aptly describes how Parrini has exposed the singular musicality of his instrument. Each of these discs does the same in a similar fashion.