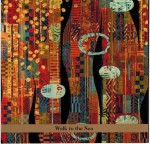 In 2007 trumpeter David Buchbinder released a CD called Odessa/Havana, an innovative mix of Eastern European klezmer and Latin American dance rhythms that touched on their common roots in the Middle East and Andalusian Spain. It was a brilliant success, finding genuine international acclaim. Odessa/Havana returns with Walk to the Sea (Tzadik 8177, odessahavana.com), a sequel that possesses even greater resonance, moving beyond the original instrumentals of the first CD to include songs from the Judeo-Spanish Ladino tradition, with pianist Hilario Durán's arrangements of older songs and Buchbinder's fresh settings of poems by Lina Kohen Albukrek, sung here by Maryem Hassan Tollar. The work is filled with rare grace and power, combining Buchbinder's lyricism and Durán's fire with an ensemble that is alive with varied percussion and vernacular fretted instruments from the middle-Eastern oud to the Cuban très. John Johnson contributes orchestral colour on a host of reeds and brings an explosive, dancing freedom with his tenor saxophone.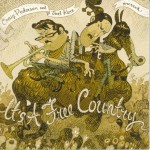 It's a Free Country (craigpedersen.com) by Montreal-based trumpeter Craig Pedersen and bassist Joel Kerr may be unusual enough as a trumpet-bass duo, but the material makes it stranger still: it's largely devoted to country and western themes approached from a variety of vantage points, including straightforward readings of tunes to exploratory free improvisation. You know something different is afoot on the opening title tune, with voices intoning: "It's a free country/ but only for me." Mixing in original compositions, it's always unpredictable: Pedersen's own "Williams Lake" has the clarity and grace of a gospel choir singing in a clearing in the woods; J.P. Webster's "Wildwood Flower" has trumpet and arco bass in unison; Willie Nelson's "Crazy" begins in sputtering free improvisation long before its famous melody emerges. It's consistently playful, imaginative work that's somehow true to both the emotional directness of country music and the oblique abstraction of current improvisation, just not at the same time.
Wide-open spaces also inspire composer/reed player Rob Mosher, who grew up in the village of Greenwood, Nova Scotia, moved to Toronto for composition studies, then settled in New York. His recent suite, Polebridge (robmosher.com), reflects both his mobility and his keen sense of place, as he goes further afield for inspiration. Polebridge, Montana is a hamlet of 88 people, the same number as the keys on a piano, and when Mosher arrived there he found an old piano abandoned in a lane. That image colours the music, a genuine chamber jazz mutation: there's a seamless interplay of composed and improvised elements that draw inspiration from sources as diverse as Aaron Copland and klezmer as well as the images of a western town outside of time. The group foregrounds the virtuoso trumpeter Micah Killion and pianist Stephanie Nilles, but the score is alive with unusual timbres, from country fiddle and mandolin to English horn and bassoon.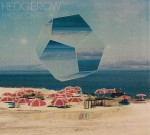 It's rare to hear a jazz quintet that similarly explores sonority, but that's Toronto guitarist Harley Card's frequent emphasis on his second CD as leader, Hedgerow (DYM002, harleycard.ca) beginning with his own guitar choices, from the sparkling, icy clarity of his electric on Get There to the warm, ringing, steel-string acoustic of "Helicopters and Holograms." The emphasis extends to his band and his compositions: Tenor saxophonist David French also plays bass clarinet, Matt Newton plays acoustic and electric piano and, among the shifting rhythm players, Jon Maharaj plays acoustic and electric bass. That love of mutating sonorities works hand-in-glove with Card's fondness for short, repeating figures with modulating harmonies, evident in tunes like "Hedgerow" and "Sophomore." Whether the ultimate effect is pensive or celebratory, Card plays and writes with a keen sense of mood and emotional communication.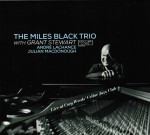 Bop is at the source of most forms of modern jazz, whether it's the harmonic language of cool jazz, the aggressive swing of hard bop or the spiky melodies and rhythms of free jazz, but it's rare to hear bop strongly evoked today. The Miles Black Trio with Grant Stewart (Cellar Live CL041313, cellarlive.com), recorded at Vancouver saxophonist Cory Weeds' Cellar Jazz Club, does just that. Tenor saxophonist Stewart can suggest the compound messages of the great Dexter Gordon, lush and hard-edged, relaxed and aggressive, while Black's piano alternately takes flight with lean, linear runs or turns introspective with dense block chords. André Lachance provides solid walking bass and Jim McDonough's drumming drives the band with sudden, well-placed accents. The program of standards and originals contributes to the relaxed flow, while relatively obscure gems like Elmo Hope's and Sonny Rollins' "Carving the Rock" and Tadd Dameron's "Super Jet" reveal rare bop erudition.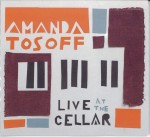 Recorded at Weeds' club as well, the Amanda Tosoff Trio's Live at the Cellar (Ocean's Beyond Records OBR0009, amandatosoff.com) is also set solidly in the modern mainstream, though Tosoff's penchant for subtle, elusive harmonic extensions is likelier to suggest the work of Bill Evans than bop. The Toronto-based pianist is clearly at home returning to her Vancouver roots. Rogers and Hart's "There's a Small Hotel" swings joyously, propelled along happily by the forceful rhythm section of bassist Jodi Proznick and drummer Jesse Cahill, but it's on Tosoff's own compositions that the group is most imaginative. "Fill Me Up with Joy" begins with short, sharply punctuated phrases only to develop a passionate, welling momentum; "Half Steps," a ballad here dedicated to Tosoff's late teacher Ross Taggart, is filled with a muted luminescence.