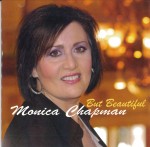 But Beautiful
Monica Chapman
Independent
monicachapman.net
With the release of her latest recording, refreshing, Romanian-born vocalist Monica Chapman displays a superb vocal instrument with impeccable intonation, as well as a tasty menu of elegant jazz "standards" framed by the skilled arrangements and inspired, rhythmic and zesty piano work of producer Bill King. The tight ensemble of first-call players includes Duncan Hopkins on bass, Mark Kelso on drums, Reg Schwager on guitar, Luis Jorge Papiosco on percussion, William Sperendei on trumpet and Anne Lindsay on violin (whose sensitive and evocative work enhances the entire project).
With an extensive background in opera, theatre and classic cabaret, Chapman moves effortlessly between styles and eras, as well as seamlessly embodying both the French and English lyrics. Her highly trained vocal instrument is a rich, precise, alto that easily transmits the emotional intent of the material, whether interpreting a melodic post-war ballad such as the Van Heusen/Burke title track, or a depression-era Rodgers and Hart favourite such as Ten Cents a Dance, or the heart-rending ballad L'amour Le Vrais.
In addition to her innate musicality, Chapman is defined by her strong theatrical sensibility and holds her own on the Ellington/Strayhorn opus, Lush Life and also swings Ella-style on Someone Like You. A true standout is the rarely performed Johnny Mercer tune This is Always, which was a 1950s hit for another gorgeous alto, the late, great Irene Kral. Chapman's version is a total delight and features a moving and harmonically thrilling piano solo from Bill King.
Concert Note:Monica Chapman launches
But Beautiful at the Pero Lounge, 812 Bloor St. W. on October 4 at 8pm.