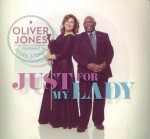 Montreal pianist Oliver Jones announced his retirement at age 65 back in 2000, but returned to performing shortly thereafter. Since then he's made a further contribution to the swing quotient of Canadian jazz, for Jones has a devotion to rhythmic propulsion second only to Oscar Peterson. A certain resemblance may be inevitable: Jones grew up in the same Little Burgundy neighbourhood of Montreal where he studied piano with OP's sister, Daisy Peterson Sweeney. Josée Aidans appears as a special guest with Jones' trio on about half of Just for My Lady (Justin Time JUST 251-2 www.justin-time.com) and the warmth of her violin adds a special touch, whether it's to the forceful Josée's Blues, the luminous balladry of Lights of Burgundy (a Jones composition from 1985) or the delightful swing of Lady Be Good. Elsewhere Jones, bassist Eric Lagace and drummer Jim Doxas are at their usual consummate level, consistently elegant whether reflective or joyous.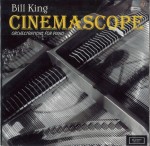 Bill King is another veteran pianist with a Peterson connection, first coming to Canada as a teenager in the 1960s to study at the Advanced School of Contemporary Music in Toronto. King has had a long career in Toronto as composer, publisher, bandleader and mentor to a host of vocalists, but on Cinemascope: Orchestrations for Piano (Slaight Music www.slaightmusic.com) he goes it alone at the keyboard of a Steinway grand, improvising on themes with cinematic inferences. There's a strong thread of Ellington's particular impressionism here, whether King is reflecting on Audrey Hepburn in Audrey in Silk or Duke's writing partner in Strayhorn. King's darkened-theatre reveries can recall a host of landscapes and genres, but they all seem to glow with the special luminosity of memory.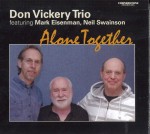 Another alumnus of the Peterson school is drummer Don Vickery, who was already active in Halifax jazz circles before he relocated to Toronto in 1959. Vickery is 74 now, but he's lost none of his springy, propulsive beat, amply demonstrated on his first CD as leader, Alone Together (Cornerstone CRST CD 139 www.cornerstonerecordsinc.com). The music here is mainstream modern jazz of the first rank, with Vickery fitting hand-in-glove with his partners. Pianist Mark Eisenman's relaxed rhythmic phrasing and feel for the blues always suggest something of the late Wynton Kelly, while Neil Swainson is a genuine melodic bassist, whether soloing or playing the melody on Johnny Mandel's seldom heard Close Enough for Love. There's never a sense of a superfluous note here, and it all seems to float on air, wafted aloft on Vickery's detailed punctuation. Other highlights include Hampton Hawes' Blues the Most and Henry Mancini's Dreamsville, also imaginative repertoire choices.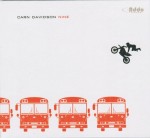 The Carn Davidson Nine (Addo AJR014 www.addorecords.com) debuts a mid-size ensemble led by Toronto alto saxophonist Tara Davidson and trombonist William Carn. The band is a fine outlet for the co-leaders' compositions and arrangements, allowing for voicings and dynamics that are unavailable in the typical quintet or quartet. While the name may recall Phil Nimmons' groundbreaking nonet, this Nine's structure includes sheer heft (consider the brassy force of Davidson's opening Battle Scars) as well as nuance, complementing the leaders with saxophonists Kelly Jefferson on tenor and Perry White on baritone (always forceful presences), trumpeters Jason Logue and Kevin Turcotte, and bass trombonist Terry Promane, with bassist Andrew Downing and drummer Fabio Ragnelli. The subtlety comes via the doubling, with flutes and flugelhorns coming to the fore on Carn's airy When You Least Expect It. With arrangers including Promane, Logue and Reg Schwager and high-level soloists (Davidson is delightfully abstract on her South Western View), the Carn Davidson Nine could become a significant institution.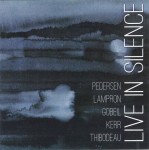 Last year Montreal saxophonist Patrick Lampron released Walking the Line and Ottawa trumpeter Craig Pedersen put out Days like These, both CDs of exceptional promise. That promise has been fulfilled in record time with the release of Live in Silence (www.craigpedersen.com), the end product of a Northern Quebec tour by Pedersen/Lampron/Gobeil/Kerr/Thibodeau, essentially Pedersen with the band from Lampron's CD: guitarist, Dominic Gobeil, bassist Joel Kerr and drummer Eric Thibodeau. While Pedersen's band conception usually falls in the overlapping orbits of Ornette Coleman and John Zorn's Masada, here the collective inspirations are the ECM label's Nordic cool, open harmonies and spacious, lyrical modal jazz, complemented by influences from Wayne Shorter and Tomasz Stanko. The band is cohesive, with Pedersen bringing another dimension, nowhere more apparent than in Lampron's compelling and concluding Obrigada, a composition that the quintet sustains with developing interest for nearly 17 minutes of music.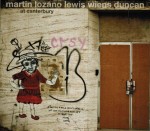 A similar Ontario/Quebec connection appears in the quintet of free improvisers Martin, Lozano, Lewis, Wiens, Duncan on the CD at Canterbury (Barnyard Records BR0332 www.barnyardrecords.com). The style is deliberate and focused, with ideas clearly developing as they're passed around the group. Singer Christine Duncan and guitarist Rainer Wiens, doubling on theremin and mbira respectively, can create backgrounds of a rain forest density while trumpeter Jim Lewis and saxophonist Frank Lozano are deft musical architects, marking lyrical trails through the soundscape, all of it enhanced by Martin's expansive store of adroitly distributed sounds. There's an often uncanny sense of form here, and it's too bad that Wiens and Lozano reside 500 kilometres from the rest of the band.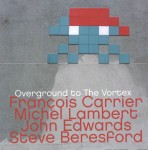 Montreal saxophonist François Carrier and drummer Michel Lambert are regular ambassadors to the world of improvised music, intrepid travellers who have matched inspirations with similarly open creators throughout Europe and parts of Asia. On Overground to the Vortex (Not Two MW904-2 www.nottwo.com), another segment in their extended chronicle, the two appear at London's Vortex with two outstanding representatives of the British school of free improvisation, bassist John Edwards and pianist Steve Beresford. The trio of Carrier, Lambert and Edwards are heard first with Edwards' complex bass activity matching up perfectly with Lambert, creating a force field of percolating rhythmic details that Carrier negotiates with the zeal of an urban explorer facing a new metropolis. The full quartet assembles for Archway, an extended musical arc consisting of constantly shifting moods and densities, highlighted by Carrier's controlled passion and Beresford's playfulness.