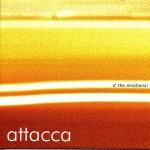 O' The Emotions
Attacca
Schraum 15 (www.schraum.de)
Named for the musical direction at a movement's end that indicates the next sequence must follow immediately, this CD's 10 tracks do just that, exposing a series of clanking, resonating and breathing timbres that meld exquisitely. As significantly, the players source electronic-like properties from acoustic instruments, using unusual techniques and patterning, not processing or mechanical synthesis.
Part of the reason for O' The Emotions' achievement is the mixing and mastering skills of the trio's guitarist, Calgary-born, McGill Music-educated Dave Bennett. But there's little post-production prestidigitation. A Berlin-resident since 2003, Bennett's unfussy string-hammering instead creates a percussive undertow that he and resolute German bassist Axel Haller slip into to provide ballast behind their own solos as well as those of captivatingly unique trombonist Matthias Müller, another German. Using tongue stops, air puffed through his horn's body tube without slide or valve movement, slurs and whistles, Müller's resulting lowing growl and narrow breaths are more bravura than brassy. Squirming with protoplasmic intensity his inventions assert themselves but without demanding centre stage. Similarly, both Haller's pumping stentorian loops and Bennett's racking twangs and string-rattles add to a constantly evolving production without disruption.
Definition is finally created out of sonic chaos with the concluding Living by Fiction. A series of organ-like glissandi made up equally of bow sweeps across double bass strings; splayed guitar licks and concentrated trombone grace notes achieve a climax of dense, polyphonic textures radiating every which way. The CD is another example of the unexpected aural adventures available that are hardly reflected by a mere listing of the players' instrumentation.