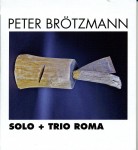 Although the witticism that "free jazz keeps you young" has been repeated so often that it's taken on cliché status, there's enough evidence to give the statement veracity. Many improvisers in their eighties and seventies are still playing with the fire of performers in their twenties. Take German saxophonist Peter Brötzmann, who celebrated his 70th birthday and nearly 50 years of recording a couple of years ago. Case in point is Solo +Trio Roma (Victo CD 122/123, victo.qc.ca), recorded at 2011's Festival International de Musique Actuelle de Victoriaville (FIMAV) in Quebec. Not only does Brötzmann play with unabated intensity for almost 75 minutes, while fronting a bassist and a drummer about half his age on one CD; but on the other inventively plays unaccompanied, without a break, for another hour or so. The multi-reedist still blows with the same caterwauling intensity that characterized Machine Gun, 1968's free jazz classic, but now a balladic sensitivity spells his go-for-broke expositions.On Solo, his overview is relentlessly linear mixing extended staccato cadenzas with passages of sweet romance that momentarily slow the narrative. Climactically the nearly 25-minute Frames of Motion is a pitch-sliding explosion of irregular textures and harsh glissandi that seems thick as stone, yet is malleable enough to squeeze the slightest nuance out of every tune. Slyly, Brötzmann concludes the piece with gargling split tones that gradually amalgamate into I Surrender Dear. Backed by Norwegian percussion Paal Nilssen-Love and Italian electric bassist Massimo Pupillo, Brötzmann adds lip-curling intensity and multiphonic glissandi to the other program. Centrepiece is Music Marries Room to Room that continues for more than 69 minutes. Besides wounded bull-like cries tempered with spitting glissandi from the saxophonist, the piece includes jet-engine-like drones from Pupillo as well as shattering ruffs and pounding shuffles from the drummer. Several times, just as it seems the playing can't get any more ardent, it kicks up another notch. Indefatigable, the saxophonist spins out staccato screams and emphatic abdominal snorts in equal measures, with his stentorian output encompassing tongue slaps, tongue stops and flutter tonguing. Brief solos showcase Pupillo crunching shards of electronic friction with buzz-saw intensity, while Nilssen-Love exposes drags, paradiddles, rebounds and smacks, without slowing the beat. There are even lyrical interludes among the overblowing as Brötzmann occasionally brings the proceedings to a halt for a capella sequences, which suggest everything from Taps to Better Git It in Your Soul. Finally the broken-octave narrative reaches a point of no return to wrap up in a circular fashion with yelping reed cries, blunt percussion smacks and dense electronic buzzes. Rapturous applause from the audience spurs the three to go at it again at the same elevated concentration for an additional five minutes.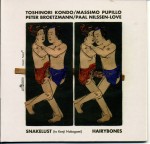 Three months after FIMAV, at a Portuguese jazz festival, the trio was joined by Japanese trumpeter Toshinori Kondo and under the name of Hairybones recorded the single-track blow-out that is SnakeLust (Clean Feed 252 CD www.cleanfeed-records.com). Affiliated with the reedist on and off since the early 1980s, the trumpeter who also uses electronics, adds several sonic colors to sounds from the basic trio. Given a wider canvas, Pupillo transcends holding the ostinato, and uses slurred fingering, buzzing flanges and frailing distortions. Similarly the drummer contributes several extended hand-drumming sequences, most notably as accompaniment to Brötzmann's investigation of the woody tárogató. Kondo's most common strategy mixes muted tongue flutters with electronic extensions reminiscent of Miles Davis' 1970s work. He often plays allegro as well, using his familiarity with the reedman's ideas to blend capillary grace notes with Brötzmann's visceral strains, often played parallel. The expanded sound field not only creates polyphonic textures with at least five sonic colours, but warms the saxman's staccato slurs and altissimo cries. Following Brötzmann's and Nilssen-Love's tárogató-drum intermezzo, Kondo's mellow, electronically enhanced trills add enough French-horn-like timbres to almost make that theme variation low key. By the improvisation's conclusion however, Kondo presses down on his effects pedal to add wide vibrations. These join enough torqued multiphonics from the other players to create a finale that's strident, contrapuntal and ultimately satisfying.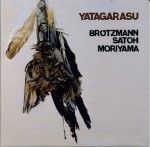 Less than 90 days afterwards, peripatetic Brötzmann performed at Krakow's Autumn Jazz Festival in another mammoth improvisation captured on Yatagarasu (NotTwo MW 894-2 www.nottwo.com). Billed as The Heavyweights, his associates were both Japanese and his contemporaries: pianist Masihiko Satoh is his age and drummer Takeo Moriyama four years younger. Despite the abundance of grey hair the set was characterized by the same unparallelled toughness as the others. Another free jazz marvel, Satoh has the matchless technique and indefatigable stamina to match the saxophonist's snaky inventions, while Moriyama's double-time paradiddles and martial press rolls open up spacious sound territory. On some tracks, Brötzmann appears to never stop playing, emptying his lungs with staccato whinnies and visceral battle cries. Not that the pianist's raw-power chording takes second place. Should the saxophonist metaphorically examine every tone facet before letting it loose, then Satoh's voicing emphasizes each note with key-clipping enthusiasm. On Icy Spears, the pianist cuts through the cacophony to surprise with low-frequency, cross-handed chording, prodding Brötzmann to briefly slow the tempo with breathy vibrations before deconstructing the line into shards once again. Full-blast saxophone shrills are other Satoh challenges, which he counters by redoubling his kinetic key fanning. Eventually cymbal clashes blend with swelling piano pumps and altissimo reed passion for an expressive climax which appears to have reached the limits of endurance; at least the trio suddenly stops playing.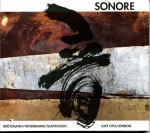 Brötzmann is also a mentor to – and often employer of – younger saxophonists involved with unbridled free expression. Recorded one month before his FIMAV gig, Sonore Café Oto/London (Trost TR 108 www.trost.at) is a showcase for another of his distinctive working groups. An all-reeds trio, other members are American tenor saxophonist/clarinettist Ken Vandermark and Swedish baritone saxophonist Mats Gustafsson, leaders of their own bands, each two decades Brötzmann's junior. Tellingly the older saxophonist doesn't pull rank, with solos parceled out equally. Furthermore the program consists of a composition by each member plus a free-form blow-out. More crucially despite the juxtaposition of jagged split tones, altissimo runs and deep-seated bellows vibrating during the program, Sonore is in no sense Brötzmann times three. While a layered narrative like Le Chien Perdu features the three harmonizing in triple counterpoint, each player retains his individuality. Gustafsson does so by propelling pedal-point pops. Still even as Brötzmann's and Vandermark's staccato timbres swell to bird-whistle territory, neither would be mistaken for the other.
Youthfulness may have a particular meaning in general. Yet when it comes to innovative musical expression, Brötzmann provides the textbook definition.