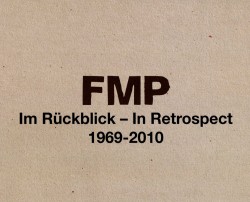 Throughout jazz history, independent labels have typified sounds of the time. In the Swing era it was Commodore; Modern jazz was prominent on Blue Note and Prestige; and with Improvised Music, FMP is one of the longest lasting imprints. Celebrating its 40th anniversary, the Berlin-based label has given listeners a spectacular birthday present with FMP In Rückblick – In Retrospect 1969-2010 (www.fmp-publishing.de): 12 [!] CDs representing FMP's past and future – the oldest from 1975, the newest, by American cellist Tristan Honsinger and German guitarist Olaf Rupp from 2010, half previously unissued – plus an LP-sized, 218-page book, lavishly illustrated with contemporary photographs, posters, album covers and a discography.
FMP's musical scope was overwhelming. In this box, for instance, are discs by an early Pan-European ensemble, the Globe Unity Orchestra (GUO); solo sessions by Belgian pianist Fred Van Hove, German bassist Peter Kowald and others; outstanding combo dates including British saxophonist Evan Parker and Swiss pianist Irène Schweizer; and instances of minimalism from German string-player Hans Reichel and Austrian trombonist Radu Malfatti. Ferocious German saxophonist Peter Brötzmann, who almost single-handedly formulated Free Music in Germany and helped create FMP, is represented on three CDs. No exercise in nostalgia, the book outlines in unsentimental details how the revolutionary climate of the late 1960s sustained the growth of tough, experimental, music modeled on American-influenced Free Jazz. FMP's value was that by 1971 it was recording distinctively European Free Music, blending layers of contemporary notated and electro-acoustic music, Fluxus art ideas plus folk-based material onto the American base. Triumphs such as FMP's documentation of American pianist Cecil Taylor and its wide dissemination of essential American, European and created-in-East-Germany discs are also noted.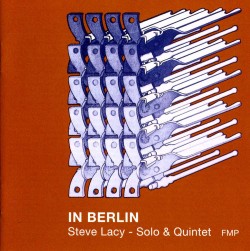 Broadminded, FMP never asserted European musical superiority however. For example, Steve Lacy Solo 1975 & Quintett 1977 In Berlin CD 02 (FMP CD 138), is a reissue by Americans Lacy on soprano saxophone; alto saxophonist Steve Potts; bassist Kent Carter and drummer Oliver Johnson plus Swiss cellist Irène Aebi. The band's super-fast harmonies plus the contrast between Potts staccato and linear style and Lacy's bugle-like moderato blowing atop Carter and Johnson's Freebop backbeat, demonstrate why the quintet was admired. Most of the CD consists of some of Lacy's earliest solos, including The Duck. Characteristically that thrilling improvisation is built from a collection of kazoo-like reed bites, split-tone yelps, hissing and rasping growls and muffled mid-range retorts. Lacy defines free music.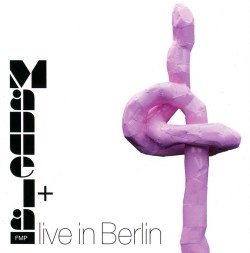 Another way to mark the evolution of FMP and European Free Music is by following the thread from Schweizer/Carl/Moholo 1975/77 Messer und… CD 03 (FMP CD 139) to MANUELA+ Live In Berlin 1999 CD 10 (FMP CD 146). Almost 25 years later Rüdiger Carl's mercurial and atonal saxophone squeals sprayed out in never-ending blasts alongside Louis Moholo's paced drumming and Schweizer's percussive pianism with a hint of Stride, has mutated into contradictory but equally aleatoric inventions. Now Carl, in the company of Carlos Zingaro's spiccato violin buzzes, Jin Hi Kim's throbbing komungo strings, and Reichel's thumping daxophone rhythms layer the interlude with distinctive colours from his new instruments of choice – light-toned clarinet and pumping accordion glissandi. Without lessening his commitment to improvised sounds the former leather-lunged saxman, now operates in a more placid area, as his quivering intonation toughens the other strings' tremolo jetes while the daxophone's strident whines provide comic relief.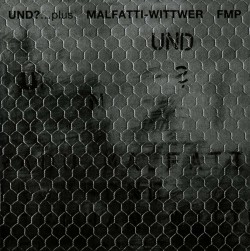 Demarcation of a unique style – which suggested a different path than all-out Free Jazz characterized by discs such as Baden-Baden '75 CD 01 (FMP CD 137), with five previously unissued performances by the 16-piece GUO providing plenty of space for genre-defining reed-splintering solos from Parker and Brötzmann; the soaring triplets of trumpeter Manfred Schoof; plus high-energy piano dynamics from GUO leader Alexander von Schlippenbach – was germinated by another of this collection's reissued CDs. In 1977, trombonist Malfatti's and guitarist Stephan Wittwer's UND? ... plus CD 06 (FMP CD 142) conclusively proved that interactive pointillism and polyphony as reductionist chamber improv was another option. Sometimes this strategy involves Wittwer's kinetic rasgueado seemingly filling all the sonic space, before Malfatti's puffs, mouthpiece osculation or leaking discordant tones move to the forefront. Despite this, connections are always linear with tracks like Cotpotok (still valid) exhibiting a broken octave coda of koto-like picks from the guitarist plus lower-case slurs and growls from the brass man.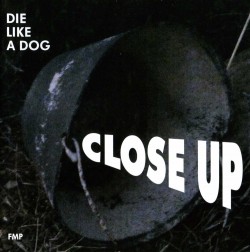 Underlining the sparks he still generates and his importance to FMP, as player, designer and talent scout – the book's first and final images are of Brötzmann in quartet formation and in frantic performance with Taylor. Similarly besides his GUO affiliation, two other CDs demonstrate the saxophonist's prowess. Close Up/Die Like A Dog 1994 CD 08 (FMP CD 144), is a hitherto unreleased concert date with one of his most powerful formations: Japanese trumpeter and electronics manipulator Toshinori Kondo, Americans William Parker on bass and Hamid Drake on drums and tablas, plus Brötzmann playing saxophones, tarogato and clarinets; and Wolke in Hosen/Brötzmann Solo 1976 CD 05 (FMP CD 141), the reedist's first solo disc. On it he shows the breadth of his skills, from surprisingly mellow, yet atonally-tinged alto saxophone vibrations on Two Birds is a Feather to the elongated and contrasting contralto and altissimo obbligatos on Piece for Two Clarinets; to how he uses tuba-like blasts and slurs plus heavy flutter tonguing to turn Humpty Dumpty, a showcase for his bass sax, into a jaunty march. Characteristically Close Up demonstrates not only high-quality Free Music, but also other musical currents welcomed by FMP. On the 46-minute Close Up/Man, Kondo's flutter tongued runs and plunger tones are further fragmented by electronic wave forms, while Drake's rhythmic tabla pulses suggest World Music. Meantime Brötzmann progressively masticates and splinters dissident ostinatos from tenor saxophone or bass clarinet, using the nephritic friction for call-and-response with the trumpeter's rubato strategies, and sometimes stopping for speedy spiccato friction from Parker, all backed by the percussionist's ruffs and pops.
Brötzmann is still going strong 16 years later, as are many improvisers recorded by FMP from its beginning. Nonetheless, as Stretto CD 12 (FMP CD 148) demonstrates, new music still comes from the label. Spiced with aviary field recordings, the eight tracks blend the timbres from cellist Honsinger's sardonic verbal humour, col legno smacks or enhanced legato quivers with Rupp's chromatic frails plus spidery finger picking. With new generations to record, perhaps FMP can last for another 40 years.