As a fairly accomplished amateur cellist and former classical radio programmer, I consider myself well-versed in the traditional cello repertoire. Imagine then my surprise to receive not one, but two, discs this month featuring works from 19 th- and early 20th-century France of which I was previously unaware. Even three of the five composers were unfamiliar to me, although they were each celebrated in their lifetime.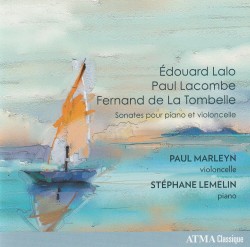 Édouard Lalo | Paul Lacombe | Fernand de La Tombelle – Sonates pour piano et violoncelle (ATMA Classique ACD2 2873 atmaclassique.com/en) features two highly regarded Quebecois performers, cellist Paul Marleyn and pianist Stéphane Lemelin. Of course I was familiar with the Cello Concerto in D Minor of Lalo (1825-1892) which has graced the standard repertoire since 1877, but his Sonata for Piano and Cello in A Minor from two decades earlier has languished in relative obscurity. Listening to the dynamic work, it is hard to understand why. It is a substantial offering with contrasting movements, lyrical and dramatic by turns, with memorable melodies and virtuosic flare. The same is true of the other works included here and it is surprising they, and their composers, are not better known. Although Lacombe was born only a dozen years after Lalo his Sonata for Piano and Cello Op.100 was written about 50 years after Lalo's, in the early years of the 20th century. For all that, it shares a sensibility and language with Lalo, not reflecting the turbulent aesthetic changes happening around him, although there is Debussy-like melody in the opening movement un peu animé. This is followed by a lyrical Largo and concludes with an ebullient Allegro con fuoco. Baron de La Tombelle (1854-1928), numbered among his mentors Franz Liszt and Camille Saint-Saëns and he himself went on to count revered organist Marcel Dupré and composer/pedagogue Nadia Boulanger among his own pupils. Not only an accomplished musician and teacher, La Tombelle was also a distinguished poet, painter, sculptor and astronomer. His Cello Sonata in D Minor Sonata (1905) opens with an exuberant Allegro, followed by a gentle lullaby-like Lentement movement before its rousing Allegro vivace finale. Here, as throughout the disc, Marleyn and Lemelin's playing is nuanced, articulate and totally convincing as it meets all the demands of this lovely music.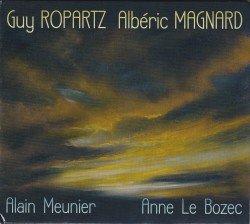 From the strident opening notes of the Sonata for Cello and Piano No.2 in A Minor (1919) by Guy Ropartz (1864-1955) the new Le Palais des Dégustateurs release Guy Ropartz | Albéric Magnard (PDD029 lepalaisdesdegustateurs.com) commands the listener's attention. As with the previous disc, little known gems are presented in stunning performances by Alain Meunier and Anne le Bozec. To say the Ropartz opens stridently is not to suggest that the work is abrasive however, and the subsequent movements – Lent et calme and Très lent – Assez animé – are warm and lush. Ropartz and Magnard were neighbours and friends, both proud of their Breton heritage. Magnard (1865-1914) died defending his home from invading Germans in the early days of the First World War. In the attack his house was burned and several manuscripts destroyed but fortunately Ropartz was able to reconstitute from memory the orchestration of Magnard's opera Guercoeur. The Sonata for Cello and Piano Op.20 in A Major from 1910 is in four movements, opening traditionally with a fast movement Sans lenteur – Alla zingarese followed by a brief Scherzo lasting less than three minutes. The Funèbre third movement is followed by a boisterous finale bringing a wonderful disc to a rollicking close.
I was surprised to hear from the Dégustateurs label founder and renowned vintner Èric Rouyer, that he finds it hard to produce recordings of French music, presumably due to market pressures, although further on in these pages you will see another of his recordings featuring the piano music of contemporary Frenchman Guy Sacre, with soloist Billy Eidi. I commend Rouyer for his efforts to unearth neglected repertory pieces and, with such outstanding performers as here, he is to be congratulated and encouraged to continue his exploration of "the road less travelled."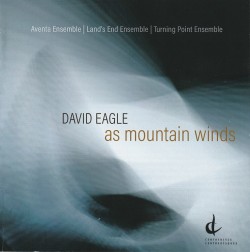 Full disclosure, my days at Thornlea Secondary School half a century ago briefly overlapped with those of composer David Eagle and more recently I was the general manager of New Music Concerts when he was invited to curate a concert in 2013 and commissioned to compose one of the works on the next recording. As mountain winds (Centrediscs CMCCD 30722 centrediscs.ca) features four compositions spanning 2011-2019 for ensembles of varying sizes. All include live computer processing and diffusion of the sounds of acoustic instruments, and, in the case of Unremembered Tongues the work mentioned above, soprano soloist (Xin Wang in the original Toronto performance). This 2021 recording features the powerful voice of Robyn Driedger-Klassen with the Turning Point Ensemble under the direction of founder Owen Underhill. It is in this complex work that we are most aware of the computer's presence as the soloist's voice is replicated, distorted, layered and distributed throughout space via an eight-speaker sound system (effective even in this stereo mix). Eagle tells us the initial inspiration came from thinking about the "many forgotten and endangered languages that are disappearing in our relentlessly modernizing society and monoculture. Sonic evocation of these lost modes of expression is a main focus of the work." The languages he draws on are Iwaidja and Kayardild from northern Australia, Latin, Blackfoot, Basque, Cree and Hawaiian. The resulting "Tower of Babel" is very effective indeed. This is followed by Altered States and, such is the density of the computer manipulations, it takes careful listening to discern that the only instruments involved are those of the traditional piano trio, although at times the textures thin out and the violin, cello and piano of the Land's End Ensemble become more easily discernable. The title track, which opens the disc, is an interactive composition for octet and computer, again with surround-sound projection. Instrumental phrases are processed in Eagle's signature style to create "fluctuating and volatile sonic textures through filtering, granulating, delays, and transposing and harmonizing with just and microtonal intonation." A Kinect motion sensor tracks the composer/interpreter's hand movements to expressively transform and extend the ensemble, here Aventa under Bill Linwood. The disc closes with the earliest work, Two Forms of Intuition, an orchestral work (with computer) taking its inspiration and title from Immanuel Kant's proposition of the same name that says we always perceive the world as phenomena in time and space. Commissioned by the Windsor Symphony Orchestra and premiered in 2012, it was subsequently performed and later recorded for this CD by Turning Point Ensemble. They have certainly made it their own. Kudos to all involved in this excellent portrait of one of Canada's most adventurous composers, one who has embraced technology and successfully and creatively integrated it into live instrumental performance.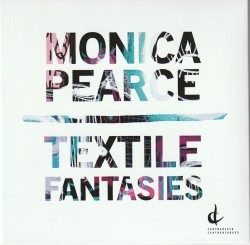 As far as I can tell, it was Béla Bartók who first wrote for the combination of piano and percussion in his Sonata for 2 Pianos and Percussion of 1937, later enlarged to include those soloists with orchestra in his concerto transcription of 1940. More about Bartók later, but he certainly started a significant trend for that combination, with such notables as George Crumb, Luciano Berio, Dieter Mack and, most recently, Canadian Monica Pearce contributing to the genre. Centrediscs has just released Textile Fantasies (CMCCD 30322 centrediscs.ca) comprising a cycle of chamber works for keyboards (harpsichord, piano, toy pianos) and percussion (a plethora of mallet instruments, plus tabla with tambura drone) in various combinations. Each piece is inspired by the particular texture of a specific fabric or pattern such as silks, velvet and houndstooth. My late father used to complain that Baroque music sounded to him like just so many sewing machines, referring to the ostinatos of the continuo. While I don't agree, I do understand what he was getting at. I thought of him fondly while listening to the first of the Textile Fantasies, toile de jouy for solo harpsichord, exuberantly performed by Toronto keyboardist Wesley Shen. I know Dad would have found it disturbing (as does my wife), but not so his number one son. I find its relentless mechanical pounding, and I mean that in a respectful and musical way, quite fortifying in its journey towards an eventual vanishing point. This is followed by leather for piano and percussion performed by Ottawa's SHHH!! Ensemble in which the piano is mostly used as a percussive instrument though various extended techniques, dampening the strings and such. I find it wonderfully reminiscent of Bartók's seminal work. There are two pieces for multiple percussionists featuring Toronto's TorQ Percussion Quartet; two contrasting works for solo piano, one aggressive and percussive played by Barbara Pritchard and the other, contemplative, featuring Cheryl Duval; another, Damask, for tabla (Shawn Mativetsky) and piano (Shen) which hints at the Middle Eastern origins of that fabric; and the concluding denim for two percussionists and two toy pianos. Did I mention that Pearce was a co-founder of the Toy Piano Composers collective? She has also penned works for Bicycle Opera (who toured extensively by pedal power across Ontario) and New Fangled Opera; pieces for new music specialists Thin Edge New Music Collective, junctQín, Array, New Music Detroit and the International Contemporary Ensemble among many others; but also for such mainstream organizations as the Toronto Symphony Orchestra and l'Orchestre symphonique de Montréal. This disc provides an intriguing introduction to her smaller works and if you're not familiar with Pearce it would be a great place to start. Concert note: There will be performances and a reception to launch Textile Fantasies at the Canadian Music Centre, 20 St. Joseph St., Toronto on November 10 at 4pm.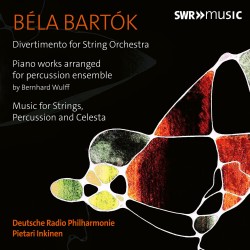 Getting back to Béla Bartók (1881-1945) for my final selection, a new recording by the Deutsche Radio Philharmonie under Pietari Inkinen (SWR Classic SWR19110CD naxos.com/CatalogueDetail/?id=SWR19110CD) features two fairly late large works, Music for Strings, Percussion and Celesta (1936) and the Divertimento for Strings (1939). The final two of Bartók's six string quartets, a cycle renowned for its craggy complexity, were composed around this same time – 1934 and 1939 respectively – but in spite of their proximity, these larger works are much more listener friendly than the quartets. This is not to say that they don't have their moments of angularity and darkness, but unlike the quartets in which the four instruments often seem to go their own way, here there is more of a sense of unity and homogeneity. In these new recordings, made in Saarbrücken in 2020 and 2021, the orchestra captures all the nuances of the two works' contrasting moods, especially in the spooky passages featuring the celesta. But more interesting to me in the context of this article are three transcriptions of Bartók solo piano pieces for percussion ensemble performed by members of the orchestra. These effective new adaptions were done by Bernhard Wulff, professor of percussion at the Hochschule für Musik in Freiburg and long-time associate of Toronto's legendary flute soloist and pedagogue Robert Aitken. Wulff is the founder and artistic director of a number of international music festivals, including Two Days and Two Nights of New Music in Odessa (Ukraine), Roaring Hooves in Mongolia, Silk Sound Road in Kyrgyzstan, Caspian Fires in Azerbaijan and Cracking Bamboo in Vietnam, many of which included Aitken in the roster of performers. The works here make a striking bridge between large ensemble pieces, beginning with the dynamic second of Six Dances in Bulgarian Rhythm from the final volume of Mikrokosmos, published the same year as the Divertimento. This is followed by the calm and quiet, almost pastoral, The Night's Music from Out of Doors (1926), incidentally the year the first volume of Mikrokosmos was published. I was amused to hear a toy piano among the instruments. The percussion suite ends with a rambunctious rendition of the bombastic Allegro Barbaro, the first work to bring Bartók to international attention back in 1911. All in all the entire disc is a treat for the ears!
We invite submissions. CDs, DVDs and comments should be sent to: DISCoveries, WholeNote Media Inc., The Centre for Social Innovation, 503 – 720 Bathurst St. Toronto ON M5S 2R4.
David Olds, DISCoveries Editor
discoveries@thewholenote.com