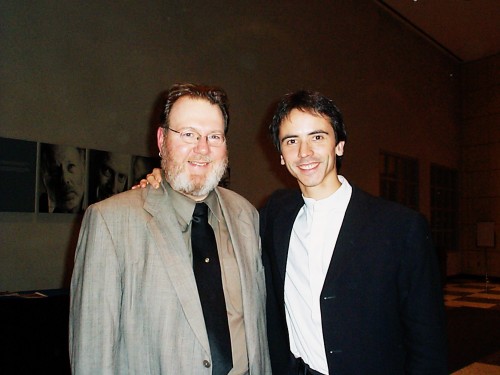 Once upon a time, and a long time ago it was, I was sitting around with friends discussing what we would do if we won the lottery. I said I would buy a radio station – this was long before blogs and podcasts – so that I could play just the music I liked. My friend Gary suggested it was not necessary to actually buy a station to make that happen, and asked did I know about the Ryerson alternative music station CKLN-FM (1983-2011)? I did not, but was pleased to learn of this incredible, if somewhat limited, community resource which by that time had expanded from being an in-house station "broadcasting" to about a dozen speakers around the Ryerson campus, to a whopping 50 watt operation accessible to anyone with a strong FM receiver in the downtown core of Toronto. I began to listen and was quite taken with the breadth and diversity of its programming, virtually all of which (from alt-pop, punk and grunge, reggae, hip-hop, house and rap, to such varied offerings as old timey roots and gospel, electronica, ambient music, spoken word, LGBT politics and ultra-left takes on current events) could not easily be found anywhere else on the dial at the time.
Although it seemed a strange extension of the mandate, I proposed a program of contemporary classical music, kind of a supplement to Two New Hours (which had been airing weekly on the CBC since 1978, under WholeNote colleague David Jaeger's production). Station manager Adam Vaughan and program director John Jones, although amused when I included talking on a taxi radio, my "day" job at the time, in my broadcast experience, found enough merit in my proposal to give me access to the equipment and a few brief lessons on how to run the board to allow me to produce a demo tape. To bring a long introduction to an end, in the early days of 1984 I made my radio debut as the host of Transfigured Night, named after my favourite piece of chamber music at the time, Schoenberg's Verklärte Nacht. The show initially aired from 2am to 7am on Tuesday mornings, which of course was Monday night to me, having been a denizen of the night-shift driving Globe and Mail trucks and later Beck Taxis for many years. During the seven years that I produced and hosted Transfigured Night, I broadcast works of Arnold Schoenberg on 109 occasions including ten performances of the show's namesake. My final broadcast aired on November 25, 1991 and on that occasion I played the recording that had made me fall in love with the work, Pierre Boulez's sextet version with Le Domaine Musical from the 1950s.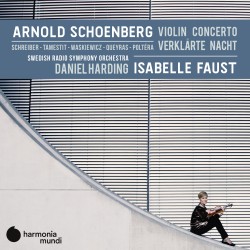 (All) that all being said, I was delighted to find a new release of Schoenberg's Violin Concerto paired with Verklärte Nacht featuring Isabelle Faust and the Swedish Radio Symphony Orchestra under Daniel Harding's direction (Harmonia Mundi HMM 902341 harmoniamundi.com). The six performers for the latter piece include Canadian-born French cellist Jean-Guihen Queyras whom I had the pleasure of meeting back in 2002 when he was awarded the City of Toronto Glenn Gould Protégé Prize as selected by Pierre Boulez, laureate of the Glenn Gould Prize that year. As part of the concert at the award event, Queyras was the soloist in Boulez's Messagesquisse performing with a sextet of other cellists assembled by New Music Concerts for the occasion.
Normally I would have forwarded this disc to Terry Robbins for his Strings Attached column, but due to the number of personal connections, and the fact that Terry reviewed another performance of the violin concerto last month, I have selfishly retained this one for myself. But I will borrow from Terry's review. He told us that in spite of the composer's own description of the concerto – extremely difficult, just as much for the head as for the hands – "it's a quite stunning work that is emotionally clearly from the heart, and that really deserves to be much more prominent in the mainstream violin concerto repertoire." With two significant recordings emerging in as many months, I think it safe to say that the concerto is beginning to receive the attention it deserves. The sextet (1899) with its dark and stormy backstory is resplendent in late-Romantic sensibility that only hints at the (a)tonal developments to come. The concerto was written almost four decades later, several years after the composer's move to the USA. While it employs the serial (12 note) technique central to his mature works, Schoenberg had taken a more tonal approach to writing after his move to America and the concerto has many neoclassical elements, not unlike Stravinsky. Faust's performance is outstanding, finding a perfect balance between the at times craggy angularity of the melody and the lyrical moments of respite. Her tone is assured and her technique flawless. The performance of Verkärte Nacht is everything I would have hoped for – warm and lush without sacrificing nuance or detail. A very welcome opportunity to revisit what is still one of my favourite works.
It was during the time of Transfigured Night that I became enamoured of electronic music in many of its (classical) forms – musique concrète, mixed works (electronics and live instruments), computer-generated and synthesized compositions, acousmatic art etc. – and at a conference in Montreal in 1986 became a founding member of the Canadian Electroacoustic Community. I also became the first to commission radiophonic works for community station broadcast, a dozen pieces from such luminaries as Norma Beecroft, Francis Dhomont, Yves Daoust and Paul Dolden, along with the abovementioned Jaeger and another current WholeNote colleague Wendalyn Bartley.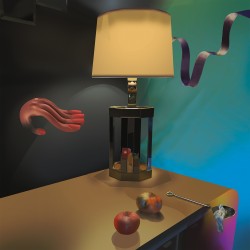 Although in recent years my interest in the form has waned, the most recent release from Toronto cellist/composer/producer Nick Storring has brought fond memories of my earlier involvement with the medium. The nostalgia I feel is not just the reminder of the many ways that electronic media can be used to convey personal expression, but also the variety of programming across the board at CKLN. Storring's My Magic Dreams Have Lost Their Spell (orangemilkrecords.bandcamp.com) is described as a "heartfelt, albeit oblique, homage to Roberta Flack" who, Storring goes on to say, "in addition to managing profound emotion and consummate musicality as a vocalist, has a brilliant curatorial mind. She brings together songs into smart and beautiful arcs and assembles artists to adorn these songs with powerful production choices and arrangements." Oblique as it is, I'm not sure I would have recognized this as a tribute to the powerful pop icon without the artist's statement contained in the press release.
Storring's latest, and his first release on vinyl (though I'm working from digital files), is a multi-faceted creature divided into six movements ranging from about five to ten minutes in length. The overall feel is gentle and tonal, although there are many different moods. Tides That Defeat Identity is a kind of synthetic aural sunrise which begins with barely audible cello scrubbing and develops through many layers in which a number of acoustic instruments can be discerned in various forms of electronic disguise. After a couple more dreamlike tracks What A Made-Up Mind Can Do builds gradually to a tumultuous clatter that gradually gives way to a Morse Code-like interlude followed by some funky bass licks with Latin beats, electric piano and psychedelic guitar that in turn recede into the mist via some gamelan-like percussion. To my ear, the title track is most reminiscent of Roberta Flack. The opening electric piano arpeggio immediately reminded me of one of her megahits, Killing Me Softly with His Song, and there I have a personal connection as well. I attended an Eric Andersen show at the Riverboat in 1974, the year after the release of Flack's hit, and was surprised to find that the opening act, Lori Lieberman, had "written" the song. I remember that several times during his set Andersen snickered (or maybe just grinned), hummed a bar or two of Killing Me and said "I wish I'd written that…" At any rate, isn't the internet a wonderful resource? I just Googled and was informed that Charles Fox and Norman Gimbel, Lieberman's agents, actually wrote the song "in collaboration with Lori Lieberman." There's much more juicy info in the entry if you're interested in some sordid details. At any rate, until Storring's wonderful tribute to the (still active at 83) songstress, that was my main connection with Roberta Flack. And don't let my talk about nostalgia lead you to believe that My Magic Dreams Have Lost Their Spell is an anachronistic throwback. It's a carefully crafted and very effective eclectic post-modern creation. Give it a spin on your turntable, or your digital media provider, or wait for the CD release which I understand is imminent.
My years as a volunteer at CKLN-FM garnered me the experience to land what I sometimes consider to have been the "best" job of my life, five years as a music programmer at CJRT-FM (especially now that I'm benefitting from a modest Ryerson University pension). Reconstructed as JAZZ-FM in 2001, the Ryerson station had been a multi-format broadcaster since its inception in 1949 and during the five years I worked there (1993-1998) the programming included classical music, opera, jazz, folk and blues shows, live concert recordings (jazz and classical), BBC variety programs and an assortment of academic courses under the auspices of Open College Ryerson. I had the great pleasure of selecting the music for Alex Baran's Music for Midday, recording – with engineer William van Ree – and scripting CJRT Concert, selecting the music for Peter Keigh's Music Before 1800, interviewing such celebrities as Ben Heppner for This Week in Music and producing Canadian Currents, 52 hour-long programs celebrating the concert music of our native land. This last notwithstanding – it was funded by a grant from Joan Chalmers through the Canadian Music Centre – the music I was "allowed" to program was for the most part not contemporary and certainly not "challenging." After all, the publicly funded station existed thanks to the generosity of its listeners, who for the most part enjoyed "traditional" fare. It was during my tenure there that the Symphony of Sorrowful Songs swept the classical world, including the august halls of CJRT. In 1992 the London Sinfonietta, under David Zinman with soloist Dawn Upshaw, recorded Henryk Górecki's 1976 Symphony No.3 with that now-famous subtitle. To date, the Nonesuch recording has sold more than a million copies, something unheard of for a contemporary classical recording. I find it somewhat surprising to note that the three string quartets by this, until then, obscure Polish composer, were all commissioned by the American Kronos Quartet, and that two of them predate the release of the chart-topping symphony that brought him world fame. Another instance of the foresight of this adventuresome group.
They have been newly recorded by Quatuor Molinari for ATMA on Henryk Górecki Complete String Quartets (ACD2 2802 atmaclassique.com). Although there are some quiet and contemplative moments, particularly in the opening of the second quartet with its extremely dark viola melody, anyone looking for a reprise of the beauty of the "sorrowful songs" will likely be disappointed. At times reminiscent of the stark and angular pathos of some of Shostakovich's later quartets, especially in Górecki's second, these works are more what you would expect from a member of the Polish postwar avant-garde. Even in the String Quartet No.3 "Songs are Sung" with its four extended sombre and quiet movements interrupted by one brief central upbeat interlude, the brooding character never finds the transcendence of the famous symphony. Quatuor Molinari bring their vast skill and dedication to this latest addition to an impressive discography, not only adding to our understanding of this undersung composer who died a decade ago, but also proving that Górecki was not just a one-trick pony. Highly recommended!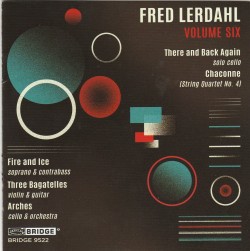 Although I see that I've pretty much used up my allotment of words mostly talking about myself once again, (but heck, it's my corner…) I did want to mention one more disc that I've been spending a lot of time with this month, Fred Lerdahl Volume Six (Bridge Records 9522 bridgerecords.com). I must confess to a lack of familiarity with this American composer who was born in 1943 and is the Fritz Reiner Professor of Musical Composition at Columbia University. Lerdahl is known for his work on musical grammar and cognition, rhythmic theory, pitch space and cognitive constraints on compositional systems. For all that, I must say I find his music quite lyrical and not at all academic. The disc includes recent chamber works and one concerto, beginning and ending with pieces composed for Finnish cellist Anssi Karttunen in 2010. There and Back Again for solo cello (Tom Kraines), was commissioned by Karttunen as part of the Mystery Variations, a series of solo works to commemorate his 50th birthday. As with all the variations, it takes as its point of departure, and in this case return, the Chiacona for solo cello by Giuseppe Colombi (1635-1694). In less than five minutes we are transported from the 17th century to the 21st and back again. This is followed by String Quartet No.4 from 2016, a one-movement work which sounds thoroughly modern without being atonal. Commissioned to celebrate the ensemble's 15th anniversary, it is performed by the Daedalus Quartet. Fire and Ice is a setting of Robert Frost's poem of the same name for the unusual combination of soprano (Elizabeth Fischborn) and double bass (Edwin Barker), based on one of Lerdahl's theoretical papers The Sounds of Poetry Viewed as Music. The liner notes explain how the tenets of the 2001 paper were applied to the 2015 compositional process which culminates when "the soprano and double bass gradually fan out to their highest and lowest registers, symbolizing the antipodes of fire/desire and ice/hate around which Frost's poem is organized." The playful and at times jazz-tinged Three Bagatelles from 2016 was written for guitarist David Starobin who performs here with violinist Movses Pogossian. The programmatic arc of the disc, with its palindromic cycle of composition dates, is completed by Arches, a cello concerto which was a Pulitzer Prize finalist in 2011. Performed masterfully here by Danish cellist Toke Møldrup with the Odense Symphony Orchestra under Andreas Delfs, the dramatic work itself is, not surprisingly, arch-like, beginning and ending quietly after a rollercoaster of a ride. I found this a great introduction to the music of a heretofore unknown composer and I'm glad to know there are five previous volumes in the series.
We invite submissions. CDs, DVDs and comments should be sent to: DISCoveries, WholeNote Media Inc., The Centre for Social Innovation, 503 – 720 Bathurst St. Toronto ON M5S 2R4.
David Olds, DISCoveries Editor
discoveries@thewholenote.com