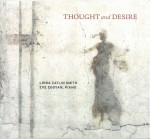 If ever there were two artists more suited to each other's aesthetic than composer
Linda Catlin Smith
and pianist
Eve Egoyan
I'm sure I don't know who they are. Their latest project,
THOUGHT and DESIRE (Earwitness Editions EE2015, eveegoyan.com)
was realized at the Banff Centre in December 2014.
The CD
contains first recordings of three works by Smith written at six year intervals beginning in 2001. The most recent,
Nocturnes and Chorales
, will receive its Toronto premiere performance October 16 to 18 at the Small World Music Centre. It consists of nine movements which the composer says "seemed to be either nocturne-like or chorale-like in nature. At the heart of the music is the voice of the piano, its resonance and character, the way inner voices work in a chorale for instance, or the way melody and arpeggiation can create a landscape." She goes on to say that Chopin and Satie were in the back of mind during the creation of the work which was the result of a residency through ArtSpring on Salt Spring Island. The overall sense of the pieces is quiet and contemplative, but in the hybrid
Nocturne Chorale
there are moments when the repetition of strangely sonorous note clusters brings to mind an anecdote about New England composer Carl Ruggles back in the early part of the 20th century. One day, drawn by the seemingly tireless banging of a single complex tone cluster on the piano over and over again, a neighbouring farmer dropped by to ask what the infernal noise was. Ruggles reportedly told him he was given the chord the "test of time." Admittedly Smith and Egoyan's "banging" is gentle by comparison, but there is a certain relentless quality at times. The overall impression however is one of timelessness.
Thought and Desire (2007) is quiet and introspective. The pianist is called upon to realize a setting of Shakespeare's Sonnet 45 "to be sung quietly as though to oneself or someone close by." Egoyan's fragile, barely audible voice brings to mind another Shakespeare reference, mad Ophelia's songs.
In an extended essay that accompanies the disc, Doina Popescu discusses the final, and earliest composed, work presented. "The Underfolding is a composition that digs into a multi-layered reservoir of sounds while moving elegantly through the musical fabric of the piece. The title evokes a well-known oil-painting technique called 'underpainting,' developed by the masters of the Renaissance. The hidden under-layer was used to sketch the basic design of each work, its tonal values and shadings of light and dark." Smith says, "I became interested in working in a layered way, to create a more ambiguous or diffuse sense of harmony […] This was my way of creating a subtle complexity, which comes not from an attempt at virtuosity, but from a desire to create a hovering atmosphere." I think this well describes not only the piece in question but Smith's oeuvre in general – a hovering atmosphere where the nature of sound itself becomes the subject. It takes a good deal of patience to fully appreciate this slowly unfolding music, but the effort is well-rewarded.
Concert notes: As mentioned above, Eve Egoyan has performances at the Small World Music Centre in the Artscape Youngplace facility on Shaw St. on October 16, 17 and 18 at which she will perform Linda Catlin Smith's Nocturnes and Chorales and new works by Nick Storring and John Mark Sherlock. Smith's Gold Leaf will be performed by Vancouver's Turning Point Ensemble at Betty Oliphant Theatre on October 17 under the auspices of New Music Concerts.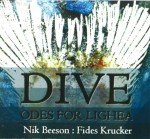 One of the most striking theatrical experiences I had over the summer was the production DIVE at the Arraymusic Studio, based on Giuseppe Di Lampedusa's short story The Professor and the Siren. The play was developed by Richard Sanger, Alex Fallis and Fides Krucker, and Krucker also had a major hand in the development of the music, composing and improvising most of her multi-character role and working with sound designer Nik Beeson. When the CD DIVE: Odes for Lighea (nikbeeson.com/dive/) arrived on my desk I wondered how well the "soundtrack" would work when taken out of the theatre. Beeson, who provided the incidental music for the play, has expanded and developed it for the purposes of this stand-alone product. Fortunately, the short synopsis provided with the disc does give most of the story's premise, explaining the context, the characters and the slowly revealed tale of the mermaid with whom the professor fell in love one fateful summer in his youth. This is juxtaposed with the political climate in Italy at the time of the story's telling, when Mussolini is rising to power and totalitarianism is the ultimate result.
The sound design is mostly electroacoustic but includes some instrumental sounds such as bass (Rob Clutton), vibes (Rick Sacks) and piano (Neil Gardiner). Beeson himself adds a number of percussion textures including cloud bowls and mbira. The more unpleasant moments include archival snippets from Mussolini's speeches and Krucker performing a particularly growly rendition of the fascist hymn Giovinezza, drawing on her signature extended vocal techniques. But we also hear her in clear and attractive voice in her portrayal of the various female characters. I should point out that although there are two male characters in the play – a young reporter and the now-aged professor – they only have speaking parts, not singing.
I will never know how I might have felt about the CD had I not had the benefit of seeing the stage production, but my impression is that it does indeed work as an independent entity. You can sample it yourself at the website mentioned above.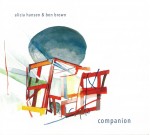 The things that initially drew me to Companion, the new CD from Alicia Hansen and Ben Brown (AHBB001.5 aliciahansenbenbrown.com), were the cover art by Mi'kmaq artist Jay White (draworbedrawn.com) and the fact that cellist Peggy Lee was part of the ensemble. I did not previously know White's art but was immediately drawn in (no pun intended) to his strange hybrid of representation and abstraction. Lee is a cellist I've been aware of in the contemporary music context through her work with Standing Wave and other Vancouver ensembles. Although I was aware of her activity as an improviser, I was surprised to see her appear in a jazz context twice in this month's offerings (see also Stuart Broomer's Waxwing review in Jazz, eh?). That being said, it turns out that her role in the Hansen/Brown project is peripheral, with cello almost exclusively used as part of the overall texture and not in a solo role. Be that as it may, I'm glad I was drawn to this disc. I find Hansen's writing (in some cases co-written with Brown) intriguing and her vocal work distinctive and enticing, at times reminiscent of Björk, especially in the haunting Outside my Window, but individual nonetheless.
Hansen's piano and keyboard work is complemented by Brown's drumming – he's not a timekeeper in the traditional sense but rather is heard in counterpoint with and as punctuation to Hansen's lines. Bassist Russell Sholberg is present but unobtrusive throughout, and he adds the eeriness of a bowed saw to Little Veins. Although not a guitar-centric disc, it is guitarist David Sikula who provides the sparse, yet surprisingly rich, arrangements. The quirky In Petra adds the convincing sound of a recorder to the mix, but searching the credits I am left to conclude this is simply one of Alicia's "keys."
Falling somewhere between (gentle) avant pop and experimental jazz, this disc is highly recommended.
It has been a while since I spent any time listening to the neo-classic/baroque music of Ottorino Respighi so it was with pleasure that I found the new disc Il Tramonto featuring Isabel Bayrakdarian and Orchestre symphonique de Laval under Alain Trudel's direction (ATMA ACD2 2732). The performances of Gli Uccelli (The Birds) with its aural aviary based on earlier renderings by 17th century composers, Trittico Botticelliano depicting paintings of the renowned artist and Antiche Arie e Danze (Ancient Airs and Dances) based on works of the Baroque are all that could be asked for, with Trudel drawing clarity and balance from his fine ensemble.
My only disappointment came in the title track, and not from any flaw in the performances. Bayrakdarian is in fine voice, enunciating the Italian words translated from the poetry of Percy Bysshe Shelley with warmth and passion. And the orchestra rises to the challenges of this work which is distinctly romantic in its approach and orchestration. At times hinting at the music of Wagner – Siegfried Idyll comes to mind – the story lends itself to this lush treatment. But here is where my concern lies. The otherwise informative notes (for the instrumental pieces) are here inadequate. At first I thought it was just an awkward translation into English, but checking the original French it seemed as if the writer had not actually read the poem (which is included in Shelley's English, Respighi's Italian and in French). We are told that the poem "embodies the purest Romantic tradition, with its depiction of a sunset symbolizing the death of two lovers." But Shelley clearly states "That night the youth and lady mingled/lay in love and sleep – but when the morning came/the lady found her lover dead and cold." The remainder of the poem makes clear that she went on to live a long life mourning his loss. That notwithstanding, I have no qualms in endorsing this fine recording.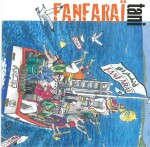 One quick note in closing. September 17 saw the kick-off of the annual Small World Music Festival with a pre-festival launch party featuring the Toronto debut of the big band Fanfaraï. Somewhat bombastically billed as "French/Algerian/Moroccan jazz musicians with a passion for the Maghrebian 6/8 who begin to sing in Arabic, Berber and Turkish, dancing like the Gnawa ... Fanfaraï is a Rai UFO matured in the copper sun of North Africa breathing intercultural harmony and sensory journey into Great Happiness!"
I recently received their 2013 release Tani (tournsol.net) and am sad to say that if this disc is any indication, I missed what must have been a fabulous party that night – I'm dancing in my seat as I write this!
Concert Note: The Small World Music Festival continues through October 4.
We welcome your feedback and invite submissions. CDs and comments should be sent to: DISCoveries, WholeNote Media Inc., The Centre for Social Innovation, 503 – 720 Bathurst St. Toronto ON M5S 2R4. We also encourage you to visit our website thewholenote.com where you can find added features including direct links to performers, composers and record labels, "buy buttons" for on-line shopping and additional, expanded and archival reviews.