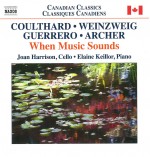 It has been a hard choice this month winnowing down the plethora of new and exciting discs that have crossed my desk to the few that will fit in my allotted space. The top of the pile is a recent release on the Naxos Canadian Classics label, When Music Sounds (9.70126), featuring cello and piano music by some of this country's most significant pioneers. I first heard rumours of this recording five years ago when I was preparing the discography for John Weinzweig: Essays on His Life and Music edited by John Beckwith and Brian Cherney (Wilfrid Laurier University Press, 2011). Noted pianist and musicologist Elaine Keillor notified us that she had just recorded Weinzweig's Sonata for Cello and Piano "Israel" (1949) with cellist Joan Harrison and although the disc was not available in time to be included in the book I have been looking forward to its release ever since. Although I did not realize how much time would pass before the disc would be in hand, I must say that seeing it released by Naxos with its global distribution has been worth the wait. Weinzweig's sonata, dedicated to the newly established state of Israel, blends his use of 12-tone technique, which he had been developing over a decade at that point, and Jewish-influenced melodies, with the cello acting as the voice of a cantor.
The disc is bookended by two works by Jean Coulthard, When Music Sounds, a short and very lyrical, if somewhat contemplative work dating from 1970 making it by far the most recent composition to be found here, and the Sonata for Cello and Piano (1946) which I must confess is my favourite selection with its shades of Debussy and cascading melodies. Violet Archer is represented by another work in traditional form, the four-movement Sonata for Cello and Piano (1956, rev.1972). Again a lyrical work, but with an edge, especially in the driving toccata-like finale. There is one delightful surprise on the disc, the charming Chants oubliés and Danse (1916) by someone whose name is very familiar, but not as a composer. Evidently Alberto Guerrero (1886-1959), likely best known as Glenn Gould's main (only?) piano teacher, was highly regarded as a composer, pianist and pedagogue in his native Chile before settling in Toronto. If this work is any indication we can only regret that he gave up composing, although we certainly have to be thankful that he did not abandon pedagogy since through nurturing the remarkable talents of Gould, Guerrero left an indelible mark on this country and the musical world.
Regarding the sound of the disc I do have a few qualms, mostly with the sound of the cello. Recorded in City View Church in Ottawa by Anton Kwiatkowski's Audio Masters I am surprised to find the cello quite harsh, a characteristic of the particular instrument itself rather than the playing I suspect. It works quite well in the Archer, but I would like a warmer sound in the more lyrical works. That thought notwithstanding, this is still a significant release. The recordings of the title track and the Guerrero are world premieres, the Archer has not previously existed on compact disc as far as I can tell and the Weinzweig and Coulthard sonatas have had only one iteration each on CD. Now, if we could have a recording of Barbara Pentland's cello sonata from 1943 please…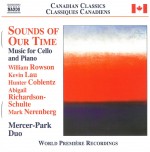 I grew up with the understanding that Weinzweig, Archer and Coulthard were the first generation of Canadian composers and they were already in the late stages of their careers as I was coming to musical consciousness. But the works presented by Harrison and Keillor are the creations of young(ish) composers, the most senior being Archer at the ripe old age of 43 (although she did revisit the work almost two decades later). In another Naxos Canadian Classics release, Sounds of Our Time (9.70212), we are given the opportunity to hear a new generation of composers, ranging in age from 22 to 35 at the time of composition. Again the works are for cello and piano, in this instance performed by the Mercer-Park Duo (Rachel Mercer and Angela Park), themselves emerging artists at the beginning of blossoming careers, who perform together in a variety of contexts including this duo, the Seiler Piano Trio, the Kang-Mercer-Park Trio and the piano quartet Ensemble Made In Canada. They have each received innumerable distinctions, perhaps most notably Mercer's being awarded the loan of the 1696 Bonjour Stradivarius cello from the Canada Council Instrument Bank from 2009 to 2012 which is heard in all its glory on this recording. I said the works were for cello and piano, but in one instance this is not the case and we get to hear the Strad in duet with itself as Mercer plays both parts in Ex Animo for Two Cellos, a 2010 composition by 22-year-old Hunter Coblentz. Producer Norbert Kraft says the process of overdubbing was a new one for him as a classical recording engineer, where the norm is one player per instrument, but the end result is entirely convincing with no hint of prestidigitation in the warm and well-balanced performance.
Coblentz is just one of the names new to me here. The disc starts with William Rowson's (b.1977) Sonata for Cello and Piano (2012) and finishes with I Thirst (2008) by Mark Nerenberg (b.1973), both composers I was unaware of. Rowson's opens with belling chords in the piano and a lilting melody in the cello which is later traded back and forth between the players. Like all the works on the disc, chosen by the duo for their immediate appeal, there is strong lyricism and fairly traditional tonality combined with a sense of drama. Inspired by the Seven Last Words (of Christ on the Cross), I Thirst is a bit of an exception with its mood of quiet contemplation providing a gentle and effective end to a marvellous journey.
In between we encounter the work of a couple of more established composers, Kevin Lau and Abigail Richardson-Schulte, both laureates of the Karen Keiser Prize at the University of Toronto. Lau is currently an affiliate composer of the Toronto Symphony Orchestra, a post that Richardson-Schulte held from 2006 to 2009. She continues as the coordinator of the TSO's annual New Creations Festival and is currently Composer-in-Residence with the Hamilton Philharmonic. Lau's one movement work Starsail (2008) represents, in the composer's words, "one individual's journey into the great unknown, both beautiful and terrifying in its infinitude and mystery." As the cello sails through the oft-stormy textures of the piano we are taken along for a wild ride with a transcendental ending. Richardson-Schulte's Crossings (2011), although couched in a traditional four-movement chamber form, employs some interesting contemporary alternatives to standard practices which the composer outlines in the program note. Of particular interest to my ears is the quietly playful second movement in which the pianist explores the inside of the instrument with the aid of a ping-pong ball resulting in some unusual sounds. This work was commissioned by the Mercer-Park Duo and, like the rest of the pieces included here, is a world premiere recording. Throughout the performances are brilliant and the sound, recorded in Glenn Gould Studio, is flawless.
At the launch for this new "disc" I was surprised to learn that it is one of Naxos' digital only releases. I wondered how this could be as I looked down at the hard-copy in my hand and was told that the duo had requested some physical product to sell at performances. Evidently this is the way of the immediate future. Naxos (and other companies) are quickly moving away from the production of discs and in many instances downloads will be the only way to obtain new releases other than from the artists themselves. As a staunch believer in full frequency listening (not possible with mp3s) I am initially skeptical about this new development. I have been assured however that "lossless" formats do exist and that Naxos will be offering "high definition" downloads that exceed the audio standards of the compact disc. I am not yet convinced, but will try to keep an open mind (and ear) as we explore the various options and possibilities in WholeNote articles in the coming months.
Lest you begin to suspect that all the composers of the new generation are imbued with romantic tendencies and write only in traditional styles, or for that matter that Naxos is the only source for contemporary Canadian music, I want to disabuse you of both notions. The Canadian Music Centre continues to release a wealth of material on its Centrediscs label in a wide range of artistic styles and there are a number of independent sources as well. A case in point is young composer Nick Storring, recipient of the 2011 Toronto Emerging Composer Award administered by the CMC and supported by Michael M. Koerner and Roger D. Moore. The annual award "supports the creation of a new musical work or the completion of an existing music-based project. It will be offered to the candidate who best demonstrates artistic excellence matched by innovation, experimentation and a willingness to take risks." Incidentally, the deadline for proposals for the next award is January 23, 2015.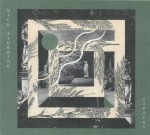 Gardens (nickstorring.ca) is a 45-minute suite inspired by composer/arranger Charles Stepney and more specifically, pop icon Minnie Ripperton's debut album Come To My Garden which Stepney produced a decade before Storring was born. While this may seem a surprising point of departure for a (post)classical composition, the result is an intriguing melange of sound that the composer says, contains no borrowed material. Storring also points out that there is no special effects processing involved in the production of the somewhat otherworldly sounds which all have their origins in live instrumental performance. The list of instruments is extensive, some four dozen in all, ranging from violin, cello, banjo and autoharp through a variety of electric strings and keyboards to percussion instruments, recorders, flutes, pan pipes and kazoo, plus a number of exotic sounding things the nature of which I can only imagine. All are played by Storring himself. The overall effect is vaguely dreamlike, at times reminiscent of Brian Eno's ambient experiments with touches of Indonesian gamelan textures, Ry Cooder or perhaps Bill Frisell guitar slides, bagpipe-like drones (although I don't see pipes listed) and bell-chime melodies suggesting Ripperton's haunting soprano voice. All in all it must be heard to be believed. Certainly the seed money provided by the emerging composer award has come to full blossom on this disc.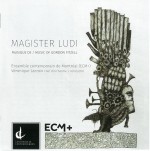 I first heard the music of Gordon Fitzell when New Music Concerts (of which, in the spirit of full disclosure, I will admit to being the general manager) presented Generation 2000, the first of what would become a bi-annual cross country tour by the Ensemble contemporain de Montréal (now ECM+) as part of the second Massey Hall New Music Festival. In the intervening years New Music Concerts and the Music Gallery have been the Toronto hosts for each of the subsequent tours, which feature four young composers selected by jury from across Canada, most recently this past November with Generation 2014. That occasion was also the launch of Magister Ludi – Music of Gordon Fitzell,the latest CD by ECM+ and their second on the Centrediscs label (CMCCD 20414).
Manitoba-born Fitzell studied at the Universities of Brandon and Alberta before completing his doctorate at UBC, and now teaches at the University of Manitoba. As mentioned, his relationship with ECM+ dates back a decade and a half and as director Véronique Lacroix relates in the liner notes, it has been something of an ongoing affair and a rewarding one at that. In addition to Flux, written for that first "Generation" tour, ECM+ commissioned the title track – a work for flute octet and solo cello – and premiered Pangaea Ultima, for bass clarinet, percussion, piano, electric guitar, violin and double bass. All of these are featured on this disc, along with violence, a work commissioned and previously recorded by the renowned American contemporary sextet eighth blackbird, and Evanescence for small ensemble (doubling on crystal glasses and ceramic bowl) with interactive electronics. This latter is actually based on the former work and was premiered by eighth blackbird at The Kitchen in New York in 2007. Since that time Evanescence has received nearly 100 performances (including one in Toronto by the New Music Concerts ensemble under the direction of Robert Aitken in 2011) and was the centrepiece of an ECM+ concert of the same name in 2014.
Fitzell's work is often inspired by extra-musical ideas – Hermann Hesse's Glass Bead Game being the basis of "an audacious expression of the fundamental and seemingly ethereal presence of the universe" in Magister Ludi, "exploring the phenomenon of perceived variances in the flow of experiential time" in Flux and reflecting on the "hypothetical supercontinent that is expected to form over the next several hundred million years as the result of a merging of the Earth's landmasses" in Pangaea Ultima. His sound world involves extended instrumental techniques and extra-musical effects – the electronic processing and crystal glasses mentioned above and a prominent musical saw in Pangaea Ultima to name a few. The language is firmly based in the "hard core" school of contemporary composition with no hint of the neo-Romanticism so prominent among many younger composers, without however being particularly abrasive. There is a warmth and welcoming in the music that belies the fact that you won't come away from the listening experience humming any catchy tunes. 
Like so much of what ECM+ takes on, this is challenging repertoire and a brave undertaking. The ensemble proves itself once again well up to the task with its virtuosity and fluency in contemporary idioms. This disc is a testament to the vision and determination, not to mention the consummate musicianship, of Lacroix who has been at the helm since founding the ensemble in 1987.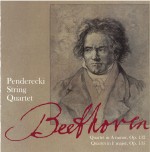 If there's one genre I like above all others it is the string quartet, and it doesn't get any better than late Beethoven. This is not to say it doesn't get as good as that in for instance Bartók and Shostakovich, just that Beethoven is hard to beat. So it was with pleasant anticipation that I took up the latest release from the Penderecki String Quartet – Beethoven String Quartets Opp.132 & 135 (Marquis MAR 81449).
There is of course no shortage of recordings of Beethoven's quartets; a quick search of the Atelier Grigorian website resulted in 95 to choose from, including complete cycles of all 16 by most of the major quartets of the 20th and 21st century. In a strange way this is why it is in a sense refreshing to have a single release from one of Canada's premiere ensembles, encouraging focus on just a couple of great works rather than immersion in an entire oeuvre. These final two offerings (although as the liner note points out No.15, Op.132 was in fact composed before No.13, Op.130) stand alone in the canon and are surprisingly different from each other. Op.132 in A minor is extremely dark, but never lugubrious, over most of its 45 minutes, with a central Molto Adagio-Andante movement lasting more than a quarter of an hour. A stately, but at times still mysterious Alla Marcia provides a bridge to the uplifting Molto appassionato; Presto finale providing light at the end of the tunnel. The final quartet in F major, is relatively light-hearted with its Allegretto opening and scherzo-like Vivace second movement in which, in the words of annotator Jan Narveson, "the lower three instruments play the same slightly mad figure over and over (48 times!) while the first violin cavorts insanely above them." A darker Lento assai is then followed by a finale that starts out Grave with Beethoven's own question "Must it be?" but soon resolves into a sunny and ebullient response: "It must be!"
The Penderecki Quartet is in fine form throughout, with its nuanced inflections capturing the various moods of these mighty works. This release confirms that the PSQ is as at home in the standard repertoire as it is in the realm of the modern and contemporary where they are most often found. Known for their interpretations of such modern masters as Szymanowski, Bartók, Lutosławski and their namesake, the quartet also champions the work of Canadian composers including Harry Freedman, Alice Ho, Gilles Tremblay, Piotr Grella-Możejko, Glenn Buhr and Marjan Mozetich to name a few. The PSQ website lists 30 CD titles (some unfortunately out of print) including half a dozen on the Centrediscs label, as testimony to its myriad activities since being founded in Poland in 1986 (where it won the Penderecki Prize at the National Chamber Music Competition in Lódz, and with that the right to use the composer's name). The PSQ has been in residence at Wilfrid Laurier University since 1991 and an integral part of creative life in Southern Ontario throughout the past two decades.
I began this article by saying that there was just too much of interest to actually cover in the allotted space. A couple of other quartet titles that caught my attention but which I will dutifully pass on to Terry Robbins for Strings Attached in the next issue, after enjoying them for a while longer, were the first installment of the Alcan Quartet's Beethoven cycle (ATMA ACD2 2491) and the Ying Quartet's complete Schumann (Sono Luminus DSL-92184). I mention them as more than worthy of note in case you don't want to wait for Terry's endorsement. Also received too late for assignment this month, an intriguing DVD and CD release from Centrediscs, Bookburners – Music by Nicole Lizée (CMCCD 20514). The DVD includes the multi-media works Hitchcock Études (a re-mix of Hitchcock scores replete with images from his films) and the title track for turntables and solo cello (featuring Stéphane Tétreault). Stay tuned for full reviews in February.
We welcome your feedback and invite submissions. CDs and comments should be sent to: DISCoveries, WholeNote Media Inc., The Centre for Social Innovation, 503 – 720 Bathurst St. Toronto ON M5S 2R4. We also encourage you to visit our website thewholenote.com where you can find added features including direct links to performers, composers and record labels, and additional, expanded and archival reviews.
David Olds, DISCoveries Editor
discoveries@thewholenote.com