I have not often experienced epiphanies in this life. The first I remember was as a teenager on a family holiday which took us to Washington, D.C. and included a visit to the National Gallery of Art where, wandering off on my own, I turned a corner and found myself face to face with Salvador Dali's The Sacrament of the Last Supper. That was a profoundly moving moment and all at once I understood what was meant by the term masterpiece. That would have been in the late 1960s. The next came in 1984 while attending the finals of the CBC National Radio Competition for Young Composers. That year the only prize awarded in the electronic music category went to Paul Dolden for The Melting Voice Through Mazes Running. Although this extremely dense and dynamically intense work drove a number of people from the hall with fingers plugging their ears, I was enraptured by its visceral power. It was that work which inspired me to commission radiophonic works for my program Transfigured Night (1984-1991) at CKLN-FM. With the assistance of the Ontario Arts Council and later the Canada Council I was able to commission a dozen composers, beginning with Dolden who produced Caught in an Octagon of Unaccustomed Light which went on to win the Third Prize of the Luigi Russolo International Competition (Varese, Italy 1988).
Some 30 years later Dolden is still at it, honing his technique which involves recording and layering hundreds of tracks of instrumental and vocal sounds, and more recently including field recordings – cicadas, grasshoppers and crickets in the current instance – to create works of vast sonic complexity. The predominantly acoustic nature of the sound sources – although there is an extended electric guitar solo included here – is integral to his process which, while using technology to stack the layers, does not manipulate the samples electronically thereby leaving the purity of sound intact. In essence Dolden, who plays most of the instruments himself, creates and conducts a vast orchestra which could not exist in the everyday world.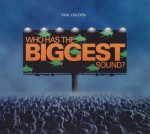 Paul Dolden's latest release, Who Has the Biggest Sound? (Starkland ST-220 starkland.com), includes two titles. The somewhat tongue-in-cheek, or at least playfully self-referential, title track which includes a narrator (Dolden) asking questions such as "Who can play the fastest? Who has the dreamiest melodies? Who can talk faster: crickets or man?" was co-commissioned by Réseaux des arts médiatiques (Montreal) and Diapason Gallery (New York). Although the narration seems a little condescending and self-indulgent, the layered textures that constitute the bulk of the composition are incredible to behold, or more accurately, behear.
The companion piece, The Un-Tempered Orchestra, commissioned by the Sinus Ton Festival (Germany), takes Bach's exploration of the equal-tempered tuning system in the Well-Tempered Klavier as its point of departure. Whereas Bach demonstrated the viability of the then new symmetrical division of the octave into 12 equal steps, Dolden's intention is to establish a "non-symmetrical building which uses non-tempered tuning systems, many of which have no octaves […] to create a new musical space within which Western and non-Western musical practices can co-exist […] a big modern multi-cultural family." He goes on to say "In order to construct this house, first I wrote simple diatonic melodies and chord progressions. Then I recorded Eastern and Western performers reading these lines in their native dialect or tuning system. With the aid of new technologies I edited all these performances to fit under one symmetrical roof. […] Specifically we see our current Western [style] of playing reflected back to us and distorted by ancient musical tuning systems. By combining different musical languages and styles we invert time: what is old becomes new and vice versa. Please enjoy these moments of musical transcendence." I know I did, but buyer beware. These sounds are big, bold, brash and often abrasive, and listening is not recommended for the timid.
In brief: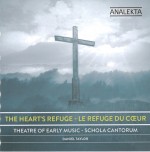 In 2012 renowned countertenor Daniel Taylor, head of the Early Music department at the University of Toronto, founded the Schola Cantorum. In its first two seasons this ensemble has already achieved remarkable success, appearing with the likes of the Tallis Scholars (2012-2013) and the Gabrieli Consort (2013-2014). The Heart's Refuge,a recent Analekta recording (AN 2 9143),features both this choir and Taylor's long-established Theatre of Early Music in vocal works of Buxtehude, J.C. Bach, Kuhnau and Bruhns as well as a short instrumental selection by Schmelzer. Recorded at Humbercrest United in April 2013, the sound of the five vocal soloists, 20-voice choir, strings and continuo is superb, with none of the purity and clarity of the period performance lost in the natural resonance of the church's glorious acoustic. Concert note: On November 9 the choir and orchestra of the Schola Cantorum and the Theatre of Early Music present "The Coronation of King George II" under Daniel Taylor's direction at Trinity College Chapel.
Beyond Shadows, the latest release from Vancouver's Redshift Records (TK432 redshiftmusic.org), features The Nu:BC Collective, an ensemble-in-residence at the University of British Columbia comprised of flutist Paolo Bortolussi, cellist Eric Wilson and pianist Corey Hamm. The group is often supplemented by guest artists, including clarinetist Cris Inguanti and percussionist Brian Nesselroad on this recording. The disc features existing works by two Americans, Dorothy Chang (who currently teaches at UBC) and Marc Mellits, and pieces composed specifically for the ensemble by two Ontario-born composers who both now make Montreal their home and teach at McGill University, Brian Cherney and Chris Paul Harman. Chang's title work, written in 2008 for the Stoney Brook Contemporary Chamber Players, is for clarinet(s), cello, percussion and piano (with Bortolussi conducting), is a busy piece which takes place predominantly in the lower registers of the instruments with interesting textures and juxtapositions. Harman's Doubling from 2007 adds clarinet to the core ensemble and as the title suggests incorporates a lot of unison work in a playful game of tag. Mellits' 11 Pieces for Flute and Piano (1992) explores a variety of moods as the individual movement titles indicate: i.e. Persistent; Distraught; Languid, Frantic etc. The most recent work, and also the only one to feature just flute, cello and piano, Brian Cherney's Twenty-Two Arguments for the Suspension of Disbelief (2010) is to my ear the most satisfying. Dark and probing, it goes beyond the level of the other works which, accomplished though they are, lack the depth and introspection of Cherney's polished gem.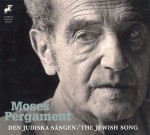 Moses Pergament – The Jewish Song (Caprice Reissue Series CAP 21834) was recorded live at the Stockholm Concert Hall in 1974 and originally issued on LP in 1976. It features vocal soloists Brigit Nordin and Sven-Olof Eliasson, the Stockholm Philharmonic Choir and Royal Stockholm Philharmonic Orchestra under the direction of James DePriest (who served as music director of the Orchestre Symphonique de Québec from 1976 until 1983 and was Director Emeritus of Conducting and Orchestral Studies at the Juilliard School and Laureate Music Director of the Oregon Symphony at the time of his death last year). Pergament (1893-1977) was born in Finland of Lithuanian Jewish stock (the name Pergament, or vellum, came from his great-grandfather's occupation, Torah scribe). He studied composition and violin in St. Petersburg and settled in Sweden in 1915 where he became well known as a music critic before establishing himself as a composer. The mammoth cantata The Jewish Song for vocal soloists, chorus and large orchestra was composed in 1944 on poems by Ragnar Josephson in which "the skald (poet) sings of the Jewish people's devotion to God, its piety, its past, its heroism, its bravery, its trust and thankfulness for the protection of the Lord." The stunning 75-minute work opens with Prelude: In Memoriam – a dramatic wordless lament for the six million Jews "who fell victim to the cruelty of the Third Reich" and continues with settings of a dozen poems culminating in a moving We Thank You Lord. Pergament is sadly underrepresented by recordings and this important re-issue of the dramatic, uplifting and exhilaratingly performed work is a welcome addition to the catalogue.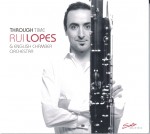 Through Time featuring bassoonist Rui Lopes and the English Chamber Orchestra (Solo Musica SM 211 solo-musica.de) presents little-known works from the first half of the 20th century juxtaposed with more familiar fare by Mozart and Vivaldi. Lopes is an acknowledged master of the baroque and modern bassoon and both are heard to advantage here. The disc opens with a charming Portuguese folk-based work by Heitor Villa-Lobos followed by the playful Divertissement by Jean Françaix originally scored for bassoon and string quintet, heard here in the world premiere of a string orchestra version. The Bassoon Concerto in B-Flat K191 was composed at the age of 18 and was Mozart's first concerto for a wind instrument. Written shortly after the Symphony No.29, like that work it represents an early example of the composer's mature orchestral sound. Lopes contributes his own virtuosic cadenzas. The Vivaldi C-Major concerto is also virtuosic, ebullient and wonderfully melodic. The disc ends with Edward Elgar's Romance for Bassoon and Orchestra, Op.62, a lush work which brings me to my only criticism of this otherwise flawless disc. In a way the Elgar brings us full circle back into the early 20th century, but despite its warm and lyrical nature, on each listening I found it jarring after the flamboyant Vivaldi. Perhaps it would work better as an encore after a rousing round of applause to clear the palette, but in the context of the disc I would have preferred the journey "through time" to be linear rather than circular.
David Olds, DISCoveries Editor
discoveries@thewholenote.com