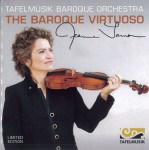 Jeanne Lamon's more than 30 years at the helm of the Tafelmusik Baroque Orchestra has been an incredible journey which has resulted in the development of one of the world's great orchestras and brought respect and renown (and the best period performers in the world) to Toronto. A leader in the true sense of the word, when Lamon declared her intention to retire last year there was a sense of shock throughout the music community, only somewhat mitigated by the announcement that she would stay involved through a newly established legacy project, the Tafelmusik Institute.
Another recent legacy project was the eponymous recording label Tafelmusik Media through which the orchestra has garnered control of its back catalogue, reissuing such classics as Bach's Brandenburg Concertos and Vivaldi's Four Seasons and producing new CDs and DVDs recorded in Toronto's flagship venue Koerner Hall. To celebrate her extraordinary association with Tafelmusik the latest offering from the label is a collection of highlights from earlier recordings featuring Lamon in prominent roles entitled The Baroque Virtuoso (TMK1026CD).
Bach's Concerto for 2 Violins in D Minor, in which Lamon is joined by longtime Tafelmusik colleague Linda Melsted, opens the disc in suitably festive and flamboyant style. This is followed by the Concerto Grosso in C Major after Corelli by Geminiani whose contemplative opening and third movement adagios are contrasted by the playful allegros in which the ensemble and soloist enjoy a merry chase. The full string orchestra is featured in these works, but in Schmelzer's long slow Sonata III from Sonatae unarum fidium Lamon is showcased alone with the accompaniment of only a chamber organ. Also on a smaller scale, but with full continuo and small string section, is Biber's Partia V from Harmonia artificioso-ariosa. These, plus another concerto grosso by Geminiani and the "Summer" concerto from Vivaldi's Four Seasons were recorded in the 1990s and originally released by Sony. The final selection, Bach's Suite in A Minor for violin and strings after BWV1067, is a more recent performance from a 2011 Analekta recording.
While we wouldn't normally pay attention to a compilation of earlier releases, this tribute to Jeanne Lamon on the occasion of her departure from Tafelmusik gives a worthy context and a welcome reason to revisit this marvellous music making. Changes of this magnitude which mark an end of an era also give the opportunity for new beginnings and we look forward to the next phase in the history of this important Toronto institution.
Another extraordinary Canadian orchestra with a relatively short history is the National Arts Centre Orchestra, established in 1969 in the nation's capital under the direction of the late Mario Bernardi. One of the seminal experiences in my own development as a listener was a performance in the early 1970s at Massey Hall which featured Bernardi conducting the NACO from the piano in a Mozart concerto. Although I have forgotten the exact details of that evening – I believe it was one of the "20-something" concertos – what has remained with me is the flamboyance of Bernardi's performance and way he was able to communicate with the orchestra by a simple nod of the head or lift of the wrist. The musicians, and the audience, were enthralled.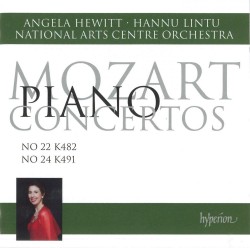 Now, more than four decades later, I am again captivated by NACO performances of Mozart concertos. Designed as a "classical" orchestra at less than two thirds the size of a modern symphony, the NACO is perfectly suited for the music of Haydn and Mozart. In this instance the soloist is renowned Canadian Angela Hewitt – I also remember when she won the 1985 Toronto International Bach Piano Competition at which one of the adjudicators was Olivier Messiaen – and the conductor is Finnish rising star Hannu Lintu. Mozart Piano Concertos 22 & 24 (Hyperion CDA68049) features Hewitt's characteristic crisp and nuanced playing perfectly balanced with the orchestra, whose horns, winds and reeds are in especially fine form. There are extensive and elucidating booklet notes by Hewitt herself and biographical information is included about the soloist, conductor and orchestra. The only thing missing that I would have been interested to know is how it came about that Lintu was selected for the recording rather than the orchestra's director Pinchas Zukerman, whose recordings of Haydn, Vivaldi, Beethoven, Schubert and Mozart are referenced in the notes. This recording from the National Arts Centre dates from July last year, so some time after Zucherman's announcement that he would leave the orchestra in 2015, but still well within his tenure…
Concert note: Angela Hewitt is featured in an unusual pairing with choreographer/dancer Tré Armstrong on June 11 at 9pm in "Keys on the Street – A recital of Urban Dance and Piano" at the Luminato Festival Hub at David Pecaut Square. The program includes music of Bach, Couperin, Messiaen and Debussy. Admission is free.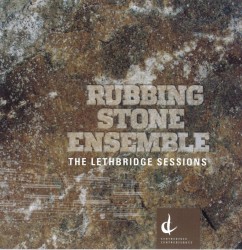 The Canadian Music Centre, established ten years before the NACO, has been producing recordings since 1981 through its Centrediscs label. The very first offering was an LP of live electronic music created by the Canadian Electronic Ensemble and over the years electronic and electroacoustic music has had a place in the catalogue in varying degrees. More than three decades since that first offering and having just surpassed the 200-release mark, one of the most recent discs incorporates state-of-the-art computer technology in four of its seven compositions. The Lethbridge Sessions (CMCCD 19213) features Calgary's Rubbing Stone Ensemble in interactive works by David Eagle, Laurie Radford, Arlan N. Schultz and Anthony Tan as well as acoustic works by Alain Perron, Shelley Marwood and Nova Pon.
The intriguing name of the ensemble was inspired by a landmark of Calgary's geography and history – a "beautiful big rock […] gracefully presiding over the Calgary region for many centuries and known to native people of the region. It was a place for bison to rub their fur coats, creating smoothed stone surfaces that survive to this day." The collective of nine musicians dedicated to the creation and performance of new music was founded in 2007 and includes among its instrumentation saxophone, flute, clarinet, piano, harp, percussion, violin, cello and soprano. Jeremy Brown's saxophones (soprano, alto, tenor and baritone) are the most pervasive influence, appearing in all but one of the variously orchestrated compositions on offer. In fact it was Brown and composer David Eagle who brought the initial intention to fruition and their stamp remains strong on the group. Eagle's Resound – Soundplay 5 for saxophone and electronics is one of a series of works designed as "games" in which sound files, melodic and spoken fragments, solo and ensemble movements, extensive live processing and sound spatialization can be combined in different ways.
Considering astronomer Edwin Hubble's discovery that the universe is constantly expanding, contrary to Newton's law of gravity and Einstein's collapsing universe model, but intrigued by the existence of such phenomena as black holes where gravity is so great that everything collapses inward, Radford's Infolding proposes "a concept where sound and energy move inwards, converge […] where intensity is created as events fold inwards wave upon wave…"The work is scored for soprano saxophone, violin, piano, percussion, live signal processing and eight-channel sound. Another work with elevated inspiration, Schultz's Ikos – kun tu 'bar ba uses texts created by the composer, meditations on light based on Orthodox liturgy and Tibetan religious philosophy. The extended composition is scored for soprano (recitation of the texts, often buried in the overall textures), tenor saxophone, percussion, harp, piano and processed audio. Tan's UnRavel, like Eagle's Resound, uses just one instrument and electronic processing, in this instance a virtuosic violin line performed by David Seidle. As in many of Tan's works the computer is used to extend the range and textures of the instrumental line both micro- and macroscopically.
Even the purely acoustic works on the CD tend to expand the sonic palette through unusual combinations of instruments – Perron's Cycle 4 using four saxophones (one player), piano and percussion; Nova Pon's Wayfaring for tenor saxophone and harp; and even Shelley Marwood's Merge, which although ostensibly written for the standard "Pierrot" ensemble includes the addition of soprano saxophone giving some unexpected timbres to the mix. All of the composers represented have strong ties to the Prairie Provinces, although a number of them hail from elsewhere and have made Alberta (Eagle and Radford) or Saskatchewan (Perron) their home. Marwood is a native of Alberta but is currently pursuing postgraduate studies at the University of Toronto and Canadian-born Chinese-Malaysian composer Tan currently resides in Germany.
The Lethbridge Sessions is an eclectic collection of intriguing works by composers ranging from emerging to mid-career, all with strong and unique voices. Congratulations are due to both the Rubbing Stone Ensemble and Centrediscs for bringing them to our attention.
We welcome your feedback and invite submissions. CDs and comments should be sent to: DISCoveries, WholeNote Media Inc., The Centre for Social Innovation, 503 – 720 Bathurst St. Toronto ON M5S 2R4. We also encourage you to visit our website thewholenote.com where you can find added features including direct links to performers, composers and record labels, "buy buttons" for on-line shopping and additional, expanded and archival reviews.
David Olds, DISCoveries Editor
discoveries@thewholenote.com