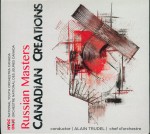 The National Youth Orchestra of Canada has released a 2-CD set documenting its 2012 adventure under the baton of Alain Trudel. Russian Masters – Canadian Creations (nyoc.org) includes sterling performances of selections from Prokofiev's Romeo and Juliet, Tchaikovsky's 1812 Overture and Shostakovich's Symphony No.10 in E Minor alongside new works from young(ish) Canadian composers Nicolas Gilbert and Adam Sherkin. If the playing on this disc is any indication, the future of orchestral music in this country is in good hands. The playing is dynamic and nuanced with strong attention to detail and line. Trudel is to be commended for his work bringing these young musicians from across the country into a cohesive and convincing whole. My only complaint is with the lack of musicological information. There is a booklet with extensive details about the organization — mission statement, audition process, training and touring programs — and a biography of Trudel, a complete list of the musicians and even the recording personnel, but not a word about the composers or the music. Perhaps the "Russian Masters" need no introduction, but this is a real disservice to the Canadians. I assumed that they were commissioned to write these works specifically for the NYOC and a visit to the website confirms this was the case for Gilbert's Résistance but that is the only information I can find there. Sherkin's Terra Incognita remains "unknown" with no mention of its origin or context. (A Google search turned up the information that this work was developed at an orchestral workshop of the Buffalo Philharmonic and a revised version was performed in 2005 at the Royal Conservatory in Toronto under Trudel's direction.) Both works make full use of the orchestra's resources skilfully although neither breaks any particularly new ground.
Montreal's Nicolas Gilbert's chamber music has been heard in Toronto in several contexts, performed by the Ensemble contemporain de Montréal, New Music Concerts and Continuum, and in recent years he has served as host on the ECM's cross-country "Generation" tours. Sherkin is a Toronto-based composer and pianist with a burgeoning international career whose new Centrediscs release of solo piano compositions is reviewed by Nic Gotham further on in these pages. It is great to have the opportunity to hear large scale orchestral compositions by these two; I only wish we were given some background information.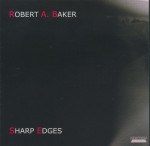 There is no shortage of information on the CD Sharp Edges featuring music of Toronto composer Robert A. Baker (robertabaker.net) who completed his doctorate at McGill University in 2009 and now makes his home in Maryland. The notes start with an Artistic Statement which states in part "At the heart of my musical imagination is a fundamental contradiction. On the one hand I want to hear music of the distant past, maintain a sense of connection to my musical heritage, and in this way feel a part of humankind. On the other hand, I feel an irresistible curiosity; a need to consider sound in as objective a manner possible, embrace any sonic option that is relevant and practical, no matter how unconventional, and attempt to hear what I have not yet heard, and say what I have not yet said."
In addition to his activities as a composer, pianist, conductor and teacher, Baker is an active researcher on contemporary music analysis and philosophies on the perception of musical time. These concerns are exemplified in the seven compositions showcased on this excellent recording. A series of four works titled Valence,ranging from solo piano to an ensemble of six instruments, are interspersed with independent pieces including the title track for four strings and percussion, another piano solo and a string quartet. This last which "evokes an array of references ranging from the distant to the recent past in Western musical history" was premiered at the Canadian Contemporary Music Workshop in Toronto in 2004. This recording of the two part ethereal then angular piece features Toronto's Elgin Quartet. The Valence series was composed between 2008 and 2011 and is presented here in reverse chronology. The disc begins with the final instalment, scored for clarinet, trumpet, piano, percussion, violin and cello, and ends with the solo piano precursor. It is intriguing to hear how the treatment of the material changes from incarnation to incarnation. Sharp Edges is not only the title of a 2009 composition for violin, viola, cello, double bass and percussion, but also an apt description of Baker's uncompromising music which encompasses the past while embracing the future.
In March 2012 the Toronto Symphony Orchestra's New Creations Festival was curated by Hungarian conductor and composer Peter Eötvös. During the week Toronto audiences had the opportunity to hear a number of his works thanks to both the TSO and New Music Concerts. One of the highlights was the Canadian premiere of the Eötvös' violin concerto Seven, a memorial to the astronauts of the Space Shuttle Columbia. The number seven provides the shape of not only the musical materials of the piece, but also the layout of the orchestra into seven mixed instrumental groups and the placement of the six tutti violins (seven violins counting the soloist) throughout the hall, distant from the stage, "in space" as it were.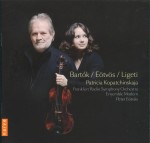 A new recording of this stunning work appears on Bartók/Eötvös/Ligeti featuring violinist Patricia Kopatchinskaja, the Frankfurt Radio Symphony Orchestra and Ensemble Modern under Eötvös' direction (Naïve V 2585). The 2-CD set also includes Bartók's Violin Concerto No.2 dating from 1939 and the five-movement version of Ligeti's Violin Concerto from 1992, the premiere of which was conducted by Peter Eötvös in Cologne. Spanning roughly 70 years, this recording effectively brings together works by the most important Hungarian composers of the 20th century in sparkling performances by the young Moldovan violinist.
The Bartók concerto has of course become a classic of the repertoire and this recording reminds us why. The Ligeti, scored for a chamber orchestra of 23 players including natural horns and four winds doubling on ocarinas, is an extremely challenging work first heard in Toronto with Fujiko Imajishi as the soloist with New Music Concerts in 1999. (She later reprised the work with Esprit Orchestra.) Described in the notes as "a characteristic example of Ligeti's late work ... Elements of music from the Middle Ages to the Baroque, Bulgarian and Hungarian folksong, polyrhythmic superimpositions as in the piano rolls of Conlon Nancarrow and an exorbitantly difficult solo part are forcibly yoked into complex constructs that liberate undreamt-of sonic energies and make listening into an adventure." It is all that and more.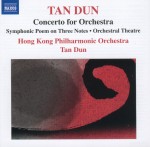 My final selection for the month also has a (perhaps tenuous) Toronto connection. Chinese born American composer Tan Dunwas selected by Glenn Gould Prize laureate Toru Takemitsu for the City of Toronto Protégé Prize in 1996. A recent Naxos release, Tan Dun – Concerto for Orchestra (8.570608) includes two compositions from 2012, the title work and the Symphonic Poem on Three Notes, juxtaposed with 1990's Orchestral Theatre performed by the Hong Kong Philharmonic Orchestra under the composer's direction. This disc provides a welcome entrée into the concert music of the composer who came to international attention with the score to the film Crouching Tiger, Hidden Dragon. The Concerto, which employs material from Dun's opera Marco Polo, is especially effective in its extended percussion cadenzas and its blending of vocalization with instrumental accents. With nods to Stravinsky, Bartók and Lutosławski while referencing his Asian heritage, this work is very effective.
We welcome your feedback and invite submissions. CDs and comments should be sent to: The WholeNote, 503–720 Bathurst St., Toronto ON, M5S 2R4. We also encourage you to visit our website thewholenote.com where you can find added features including direct links to performers, composers and record labels, and additional, expanded and archival reviews.