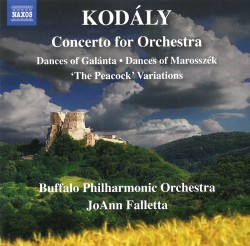 Kodály – Concerto for Orchestra
Buffalo Philharmonic Orchestra; JoAnn Falletta
Naxos 8.573838 (naxos.com)
These days, when symphony orchestras are going bankrupt all over America, the nearby Buffalo Philharmonic is flourishing. This is the second recording that came to my attention by JoAnn Falletta, their music director, recorded at Kleinhans Music Hall, with fabulous acoustics and designed by one of the forefathers of modern architecture, Eliel Saarinen.
Zoltan Kodály's best and most popular orchestral works are played with such gusto, enthusiasm and flair that one wonders if Falletta has some Hungarian blood in her veins. Folk music of Hungary is unique in Europe as the Magyar tribes came from the east in the ninth century, their music and rhythms more in common with the Mongols. The two dance pieces Dances of Galánta and Dances of Marosszék are skilfully composed, colourful collections of folk tunes, sometimes melancholic or driven to a frenzy, which often demonstrate a rhythmic pulse found in Mongolian dances (said Lang Lang), not to mention Hungary having been invaded by the Mongols in the 13th century.
Kodály's Concerto for Orchestra (1940) was commissioned by and written for the 50th anniversary of the Chicago Symphony. Although less well-known than its counterpart by Bartók, it is a fascinating mixture of high-stepping folk dance and Baroque passacaglia, echoing the concerto-grosso style. Sparklingly performed by the Philharmonic's superb instrumentalists, conducted with surgical precision by Falletta and rendered in spectacular sound, I was thoroughly enchanted.
The enchantment continues with "The Peacock" Variations (1939), a "very virtuoso showcase of scintillating effects" based on a folk song that became a rallying tune of the fight for freedom in the 1848 uprising of Hungary against the Habsburg oppression. Superb recording, highly recommended.