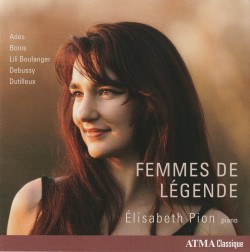 Femmes de Légende
Élisabeth Pion
ATMA ACD2 2890 (atmaclassique.com/en)
Québécoise Élisabeth Pion's debut CD offers an unusual but rewarding program of mostly-French, mostly miniature piano pieces.
Over a 15-year span, French composer Mélanie Bonis (1858-1937) depicted seven women from myth and literature. Though not conceived as a set, they were grouped as Femmes de légende by a clever publisher. Clever, too, are Bonis' musical portraits: Mélisande (sensuous), Desdémona (wistful), Ophélie (perturbed, despairing), Viviane (charming), Phoebé (delicate, elusive), Salomé (wildly unstable) and Omphale (mysteriously dramatic).
The six pieces of Henri Dutilleux's Au gré des ondes are early works, still influenced by impressionism and neoclassicism. The three up-tempo pieces – Claquettes, Mouvement perpétuel and Étude – are rollicking, rambunctiously jocular – sheer fun!
Presented here are all the solo piano works completed by Lili Boulanger before her tragically early death, Debussy's imprint evident throughout. The austere Prelude in D-flat Major is redolent of church bells and incense. Trois morceaux includes two garden strolls – the overcast, nostalgic D'un vieux jardin and the sunny D'un jardin clair; the cheerful Cortège ends the set. At nine minutes, by far the CD's longest work, Boulanger's Theme and Variations in C Minor recalls Debussy's La cathédrale engloutie, with weighty, powerfully tolling chords.
Debussy himself is represented by a scintillating performance of L'isle joyeuse. Rounding things out are the grotesque, un-lullaby-like Berceuse by Thomas Adès (one of Pion's teachers), arranged by Adès from his opera The Exterminating Angel, and Pion's own Balcony on a Wednesday Night – slow, sentimental and almost jazzy.