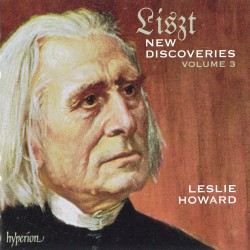 Liszt - New Discoveries Vol.3
Leslie Howard
Hyperion CDA67810
It's hard to imagine that there could be any music by Liszt that remains unpublished and possibly even undiscovered. Somehow our modern age quietly assumes we've got it all, printed, bound, recorded and filed away. So it falls to the passionate scholars to continue searching for new works whose suspected existence is owed to fragmentary sketches in notebooks, allusions in letters, etc. Performers too can be such champions as is Leslie Howard, currently making a series of recordings of the entire Liszt repertoire including unpublished and newly discovered works.
Howard has recorded many of these pieces from Liszt's original manuscripts and in a few cases has had to complete endings or otherwise fill in missing sections. The forty-eight works contained in this 2 CD set are quite short but intriguing nonetheless. Some will be familiar but many will be new to Liszt-philes. Listeners may recognize the Magnificat S182a as an early version of the more elaborate Alleluia S183/1. While Liszt seems to have discounted the early Magnificat it is an effective piece in its chorale-like simplicity with echoes of J.S. Bach throughout.
The set also includes two versions of a Romance from 1842-3, an arrangement of Schlummerlied for one of Liszt's students, Carl Lachmund and numerous other pieces that exist only in single copy manuscripts in libraries throughout Europe.
Recorded on a Steinway in an acoustically lovely Catholic church in North East London (UK), these performances make a substantial artistic and historical contribution to the body of Liszt works.